Yes, it is that time again ladies (and some of you men out there),
Spa Week
is almost here –
October 12th – 18th
to be exact. A glorious bi-annual week where hundreds of spa services (most of which are $100 and up) are only
$50
– Oh happy day….er week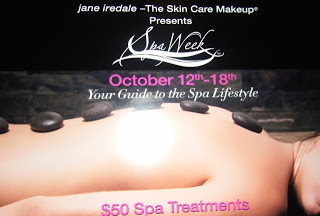 To highlight this amazing week, Spa Week had their media event in celebration and Zia and I were lucky enough to attend again. Zia and I arrived early and check-in was a breeze as usual (we wanted to arrive early to get photos before the crowd packed in – of course a few people had the same idea as well). The event seemed like an escape to relaxation, the Midtown Loft had spa cabanas all around but of course being the chocoholic that I am, I was mesmerized by the chocolate fountain and the sumptuous deserts
My first actual stop was the Caudalie Spa Cabana for a Cranial Massage.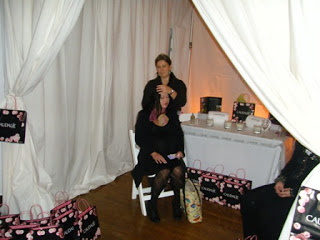 As a migraine sufferer, this was right up my alley. The esthetician hit all my pressure and tension points and for those few minutes, I was in pure heaven. The massage definitely helped me to relax after a rough day.
After my wonderful massage it was on to Spa Chicks for something I've been neglecting – the eyebrows
Although, I probably should have done this before the cranial masssage but a quick trip to the bar for Rioja Wine (Spain's Greatest Wine Region) made it all better.
After visiting Rioja, I backtracked two booths to Pevonia Skincare who provided hand massages (never got a chance to enjoy that) and skin analysis (I already knew what horrible things my skin suffered from so I skipped it).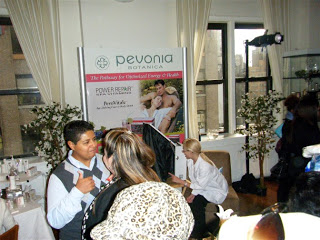 Best of all, they were doing a raffle of various Pevonia skincare, it was the biggest basket I have ever seen and I jumped at the chance to win. Isn't it huge?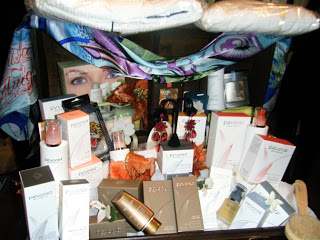 They also introduced a new beauty drink called PevoVitale Age-Defying Face and Body Drink; it was quite delicious but unfortunately not available now, it will launch next year
After noshing on a few delicious hors d'oeuvres being passed around by the wait staff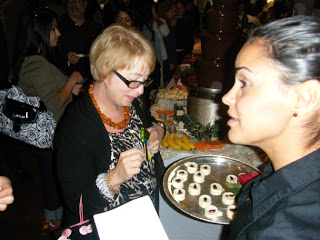 I took the time to walk around the increasing crowd see what other vendors were featured and came across the crowded Red Door Spa Cabana giving out back massages
the Feline Day Spa waxing untamed eyebrows into shape
the Stella Artois table showcasing not just Stella Artois beer but Leffe, Hoegaarden and a few others (too bad I'm not a beer drinker – Octoberfest doesn't make me giddy like some of my friends)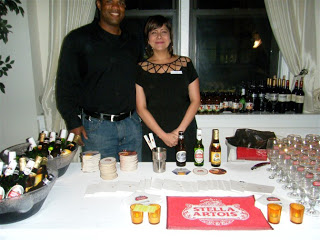 On I went from Stella Artois to the Wedding Channel, which not only displayed a gorgeous wedding dress but also a gorgeous cake and the most delicious mini red velvet cupcakes I have EVER tasted in my entire life
I usually go for chocolate more than anything but the red velvet cupcakes captivated my heart (and sweet tooth) more than the chocolate fountain (not that I ignored the chocolate fountain of course – chocolate covered bananas and marshmallows are soooo good) but I'm getting off topic a bit. Anyway, from the Wedding Salon to the event's title sponsor, Jane Iredale
Kim and Marisol enjoyed a makeover from Jane Iredale, as the rest of us enjoyed some more wine from Rioja and some fantastic fresh shrimp spring rolls from Chef Michael Bao. I didn't get a photo because the crowd was so dense but trust me, they were delicious. By this time, it was getting extremely crowded (I thanked goodness again that we arrived early) plus we had another event to go to downtown, so we grabbed our fabulous two ton giftbag and stepped out the door
Now to start getting my $50 spa treatments….pampering here I come