In honor of National Breast Cancer Awareness Month, jewelry and accessories online retailer, Hazel & Harlow, have joined Oprah Magazine to raise money for the American Cancer Society and their efforts to combat breast cancer. Hazel & Harlow will be donating a significant portion of proceeds from the sales of their specially discounted Heart Life Vine Ring.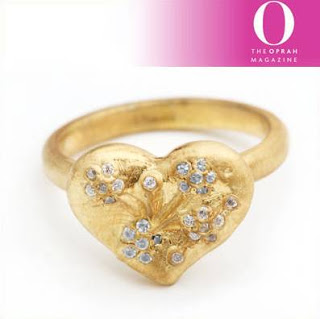 Hazel & Harlow is offering this stunning piece for $49.95 (originally retailing for $95) to assist in fundraising efforts. This ring is the gift that keeps on giving. It helps with breast cancer efforts and is a beautiful conversation piece that can stimulate discussion about the intimate reasons behind the purchase. We all know how important early detection is but sometimes an unsolicited friendly reminder will prompt action.
Purchase your 18 cart gold handcrafted, vintage style ring before October 31, 2010 to help. To order, please click THIS LINK and submit your email address. Hazel & Harlow will send you on to their designer product pages to purchase the limited time offer.
Oprah and Hazel & Harlow…a perfect combination!