While attending the NYIGF (New York International Gift Fair), I discovered Caffe D'Amore, an innovative, quality leader in the specialty gourmet industry that's been around for over 40 years. One of the many gourmet products they produce is Petals Iced Tea & Lemonade Mixes, an "all-natural line of antioxidant-rich green and black instant iced tea and lemonade mixes are sweetened with organic sugar and infused with the tastes of nature" that can be served both hot and cold.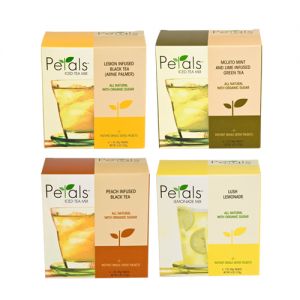 I had a chance to enjoy a refreshingly tasty cold Mojito Mint and Lime Infused Green Tea while stopped at their booth and one taste made me realize, I had to go back for more. Not only are the mixes very rich in antioxidants, they are sweetened with organic sugar, so there is no need to add any additional sugar or sweeteners. I devoured the Mojito Mint and Lime (and I hope to get some more) but I'm so looking forward to trying the other flavors – Ginseng Infused Green Tea with Honey and Lemon, Peach Infused Black Tea, Pomegranate Infused Green Tea, Lemon Infused Black Tea, and the fabulous Lush Lemonade.
For those of you who would like to add a little kick to your Petals Iced tea and Lemonade mixes should try it with a some vodka or rum for a tropical drink.