Post fashion week is always a crazed time, you need time to write up the fashion shows you attended, showroom visits for designers you missed, attend other industry events and somehow find some time to relax and get back to yourself. One of my friends, Makeda Saggau-Sackey, who heads up The Glamazon Diaries, had her second annual media retreat at the end of New York Fashion Week at The Bowery House in New York.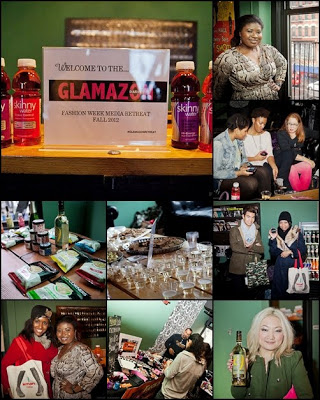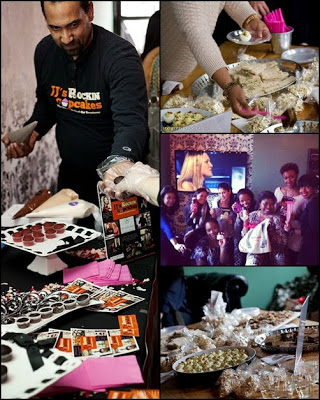 The Glamazon Diaries Fashion Week Media Retreat gave editors, stylists, bloggers, and fashion enthusiasts a chance to unwind from the hectic fashion week. The Bowery House (@TheBoweryHouse) was the perfect venue to house Project Runway designer Jason Troisi, Loehmann's, Kmart Fashion, Socially Superlative, KENTON magazine, Fashion Monitor, Tineey, John Simon Daily, The Fabulous Report, and I, along with other freelance writers and media affiliations.

Guests enjoyed a variety of appetizers by Private Chef Katrina Cunning (@chef_katrina), a cupcake bar by JJ's Rockin Cupcakes (@JJsCupcakes77), snacks by Popcorners (@Popcorners), sparkling wine by Chandon (@Chandon), sauvignon blanc by Nine Walks Wine (@NineWalksWine), and beverages by Skinny Water (@skinnywaterfan). It was an afternoon of laughter, swapping fashion week adventure stories, relaxation, delicious treats, and great conversations with friends.
Male guests left with a gift bag sponsored by FunTote (@funtote), AXE Anarchy for Him body spray(@AXE), a bottle of Nine Walks Wine, Popcorners, Skinny Water, Fudge Him! Jellybeans (@FudgeHim), My Turn (a book) by Nathan Seven Scott (@nathan7scott), metal pens by Poppin (@poppin), a watch by RumbaTime (@rumbatime), eye care masks by Eyedews (@eyedews), and a free consultation and mini mirror by Lexington Plastic Surgeons
While we ladies, female were gifted with a gift bag sponsored by Kmart Fashion (@kmartfashion), AXE Anarchy for Her body spray, a bottle of Nine Walks Wine, Mallory Musante Shoes gift certificate (@mmusanteshoes), NYX Cosmetics color lip cream (@NYXCosmetics), RumbaTime, earrings by Stone Savant Jewelry (@Stone_Savant), Nathan Seven Scott, Lexington Plastic Surgeons, Fudge Him! Jellybeans, and Poppin.