After the Chanel event, I was exhausted and hungry, so I stopped by Gray's Papaya to get those freaking fantastic hot dogs. If you are not familiar or have never been to NY, Gray's Papaya (not to be mistaken with Papaya King) have the BEST, really, really BEST hot dogs ever!! It is a must.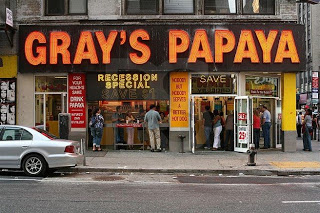 Anyway, I wasn't sure if I wanted to go to the party because fatigue was starting to set in, so I hopped on the train to Brooklyn. I was in Brooklyn all of 2 minutes when Alexandra* called about the party and I'd finally heard from my friend D, who I text'd before I left. He was in the city as well, so I just turned around and headed back to the city. I hung out with D and another friend for a bit. The two of them together is a sitcom – I was thoroughly entertained.
Anyway, Alexandra* met up with me in the city and we headed off to the party. We initially got slightly lost because I was given he wrong building number. Anyway, we arrived to this gorgeous loft. I assumed the party was going to be at a club or lounge, I definitely wasn't expecting this, which was a very nice surprise.
We arrived, wished Michael a happy Birthday ( and here is the birthday boy dressed up)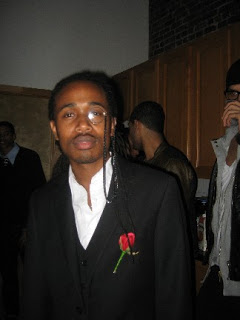 and introduced to Addia Cooper-Henry, the woman who lives in this gorgeous loft and the owner of Verse Magazine, a very chic and modern fashion magazine based in Washington. The site seems to be on hold but they do have an active blog.
Anyway, minutes after we make it into the party (after hugging and wishing Michael a happy birthday of course), I see small bottles of one of my favorite liqueurs – St. Germain, a French liqueur made from Elder Flower Blossoms.

It tastes amazing and for the healthier drinker – it is 100% natural and has no preservatives. I have a drink that I created with St. Germain and I did a few that night. It started with me doing one for myself, then Michael, then so on and so on. Next thing you know it was spread around the room. I made drinks until the ingredients were all gone.
Anyway, back to the party. Soon after we arrived, a band showed up. I don't know their name but here are some photos
It turns out the band was a Lousiana-music band. The singer/trumpet player was really getting down.
And the guests were really having a great time
Another surprise of the evening…….some of the cast of The Real World Brooklyn and crew came to the party to film. WOW! It seems that Michael, who I forgot to mention is a stylist, styled them for a photoshoot the day before and he invited them and of course they came. So Michael is going to be on an episode or more (they invited him to the house) of MTV's The Real World Brooklyn. Here are some photos of them filming
It was a great night at a party filled with an ecclectic mix of people. I even met two acting students who looked uncannily like a young Hansel and Derrick Zoolander. The one who looked like Zoolander did a dead-on impression that kept me entertained for a good bit of the night.
Anyway, that is all. Happy Birthday Michael.
*Some names have been changed to protect the permanently shy and those possibly under witness protection