After we left the girls after the BizBash event, Kim and I went to Macy's Herald Square to attend the Self Magazine & Chanel event.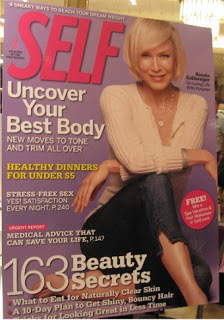 It was essentially a makeover event, which is fun because you kinda get to try the new colors, etc. As you can see, there were a lot of people
there were also some very scrumptious sweets, my favorite was the marshmallow drizzled with chocolate
I also had a very good drink called Fizzy Lizzy that reminded me a lot of IZZE Beverages. I had the Apple, which is one of my favorite IZZE flavors.
Anyway, Kim decided to get a makeover
While I was waiting and enjoying those lovely sweet treats, the artist doing Kim's makeup suggested I get my makeup done as well. The colors were neutral so I said why not but I only had my eyes and lips done (sorry, no photos) and I didn't get to take photos of the other delicious pastries, like the melted sugar glazed puff filled with whipped chocolate cream but I did get to eat one – yummy.
While the deserts were fabulous, the gift bag situation was not. Turns out you had to spend a certain amount to get the gift bag and I think it was $100 or something like that. Whaaaaaaaaaaaaaa?????????? in this economy? Sorry Chanel but thanks for the sweets. I did manage to get a photo of the gift bags though and I was told later from someone who attended earlier that the gift bag wasn't all that (she said she flirted to get the bag).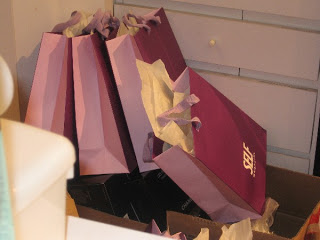 All in all, it was an ok event. I wasn't excited about it but it is what it is. Next up is my friend's birthday party.
*Some names have been changed to protect the permanently shy and those possibly under witness protection