Another day, another event to go to. Banana Republic is having an event for their new upscale line called BR Monogram.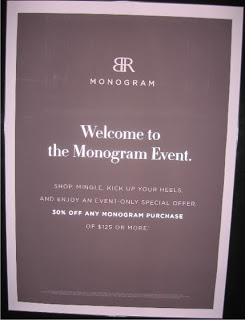 Before I go on, I must state that I was to meet with Alexandra* and Zia* as they were going to the BR Event with me but I was running behind because I had to pick up a gift from my friend Marisol and then meet up with the girls. This is what I got from Marisol (she also gave one to Kim) – a Marc by Marc Jacobs Canvas bag. Yea baby!!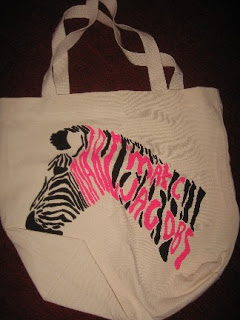 I don't know if you can tell but the pink in the Zebra actually says Marc by Marc Jacobs, here is a closeup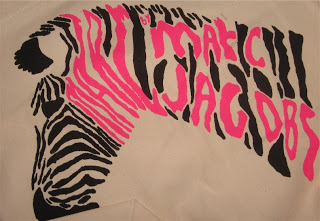 Anyway, I met up with Alexandra* (Zia as still at work and said she would meet us at the BR Monogram Event). Anyway, we went to Mantra for the NABA (National Association of Black Accountants), we arrived to a lot of standing around or sitting around. It reminded me of a Junior High School Prom, everyone just standing against the corner staring at each other wondering who will be brave enough to be the first one on the dance floor. We didn't stay long, besides Zia* called to say she was heading over to the BR Monogram Event. Alexandra* and I decided to walk over since it wasn't that far away. We arrived at the event to this line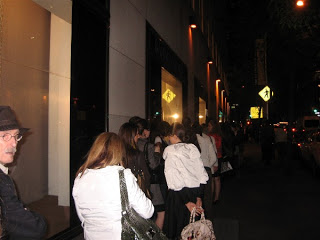 As soon as you walk into the crowded store, you were given a glass of champagne but you had to move pretty quickly because more people were coming in behind you and if you didn't want to get bumped, you didn't stay in one place too long. Besides, you have to find your way to the hors d'oeuvres otherwise you'd be totally drunk off champagne.
Anyway, they had live models changing into some of the prices from the line. I took some photos of that as well
I also took some photos of the line on mannequins. My favorite was this suit, although it looks so much better with a skinny belt on (I'd do a red belt)
They gave away a small bottle of their classic fragrance during the event and the gift bag conatined their new candle for this season (which smells incredible)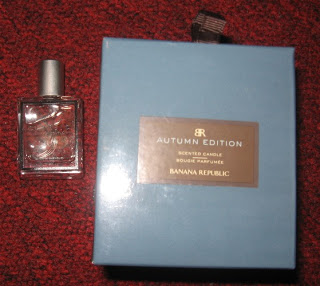 *Some names have been changed to protect the permanently shy and those possibly under witness protection