Jennifer Aniston is one smart cookie, she knows a great product when she sees one which is why it is no surprise that she is now a co-owner and spokesperson of the groundbreaking hair brand,
Living Proof
. I love and have covered several of
Living Proof
's hair-loving products, including the recent launch of their
Prime Style Extender
, and of course Jennifer Aniston is known for her amazing hair, which is why this pairing is a perfect match. In just five short years, Living Proof has found a winning formula – one where beauty meets brilliant science garnering over 34 industry awards for its hair care products.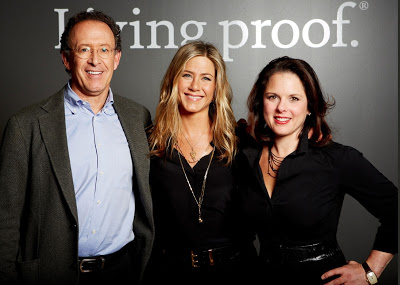 Under the partnership, Aniston will join an illustrious team organized by Jon Flint, Co-founder and Chairman of Living Proof and Co-founder and General Partner, Polaris Venture Partners. Jennifer will actively help build the Living Proof hair care business using her understanding of what drives our culture and hair trends today. Her role will involve hair care brand development and creative marketing direction for Living Proof's hair products as well as collaboration with our leading stylists and scientists on new hair care product ideas.

"Jennifer embodies everything we stand for – a unique combination of beauty and brains. She not only has the most fabulous hair but is an amazing creative talent, and has shown she is a savvy businesswoman with a serious interest in developing small, innovative companies," says Living Proof CEO, Jill Beraud. "We love how personally vested she becomes in her business ventures and are thrilled she is willing to put that passion into our hair care business."

Aniston explains her decision to partner with Living Proof: "What caught my attention about Living Proof is the company's unique approach to hair care — using scientific technologies to offer women actual proof in a bottle rather than hoping for results. I've tried so many hair care products," says Aniston. "Over the years, my hair has been subjected to everything…blow dryers, flatirons, curling irons, color, extensions, you name it. My hair has taken a serious beating. After using these products, I felt like I finally discovered a solution that works every day. I could not be more excited to share Living Proof with the world."
Living Proof hair care products can be found nationwide at top salons, Sephora, Ulta, Nordstrom, QVC and at Livingproof.com. Internationally, Living Proof products can be found at Space NK in the United Kingdom and Mecca in Australia and New Zealand.
**Press information provided by Living Proof**