By Wednesday night, the event lineup for Thursday was simple, only two events to go to. By Thursday morning though, it had changed to four events, then by the afternoon, up one more to five. And the day started out so simple – I'm going to be utterly exhausted.
We decided to skip one event and only do the rest, so we're back down to four. I'd completely forgotten about that event (big mistake for all except for Patty because she went and had a great time and got a great giftbag)…..DAMN, DAMN, DAMN!! The event was for Beija-Flor Jeans, Im bummed that I missed it because the jeans are made for jeans that fit a natural woman's curves. They are manufactured in Brazil, have a fan in Rachael Ray and have been featured in W Magazine. I am so going to their next event.
Anyway, on to the events I did attend. Vertu, maker of luxury phones and Avenue Magazine celebrates the Grand Opening of the Vertu Boutique at The Plaza.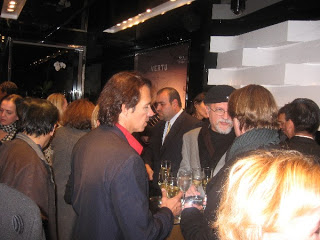 It was so tiny in there (when I arrived, the person checking everyone in had to make a few of us wait until the store emptied out a bit, which was ok because Dave had just hit me that he was outside The Plaza and would be inside in a few, so I waited for him and let the store empty out a bit, then we went in) but I did get a chance to get some photos of their wonderful phones.
DAve and I made it to the very end of the boutique where there was a bar. We each grabbed a glass of Moet and got a closer look at the phones. We also got a chance to actually eat some hors d'oeuvres. My favorite was the sushi rolls but they were gone too quickly to take a photo of them
There was a gift bag but some very tacky people (one womanin particular), raided all the giftbags and took the Vertu product (a leather business card holder or phone case – I'm not sure) that was in the giftbags and left the Ave magazine and the Vertu catalogue that was in there. I guess the Velociraptors don't only come out with Hors d'oeuvres but with gift bags too. Very tacky people