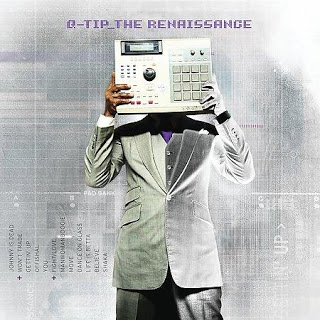 This event was my very first time as working press on the red carpet and the event was a pretty great one to start with. I usually just attend the events as a regular guest but write about it. This time I RSVP'd for press coverage and it was a fabulous event – Target Presents the Q-Tip Album Release Party, held at gorgeous The Bowery Hotel. Target has been doing a lot of collaborations with artists lately, such as Robin Thicke (my blog was too new to get an invite), John Legend, Alicia Keyes, The Jonas Brothers, Christina Aguilers, etc. Forget the evil Walmart, it's all about Target. My friend Drew came with me (unfortunately he wasn't properly dressed for the weather and left). He stayed with me for a long time and saw most of the arriving celebrities.
I always liked Q-Tip, ever since A Tribe Called Quest, he always stood out to me and I always thought he and an my old friend Derrin looked and sounded alike. Anyway, back to the event. Not only did I get a media badge (a big thank you to the folks at BNC PR)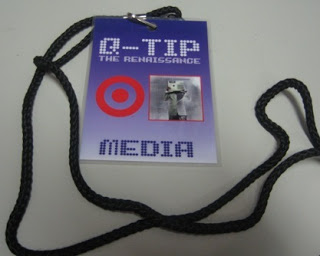 I also had my very own placement setting among the red carpet press.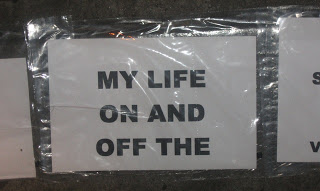 Most artists suffer for their art ad I was no exception because it was quite cold and windy that night. The celebrities were slated to arrive between 9pm -10pm but they actually started arriving closer to 9:30pm/9:45pm and press check in was at 8:30pm. As the night ticked away, it got colder and more windy. Anyway, I got some great shots of the arriving celebs
Now I'm not up on everybody who's everybody in Hip Hop. It's safe to say I know the old much better than I know the new. I had to do some research to find out who these guys are but I know one thing for sure – yummy with a spoon. According to Wireimage, they are Pacific Division. More research showed a clothing line. Here are the deliciously gorgeous boys from Pacific Division….swoon….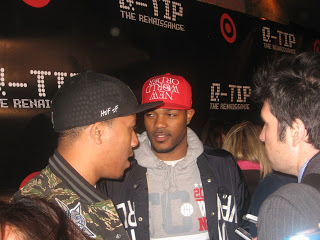 By this time, it was after 10pm (this is when Drew left and also when Marisol arrived) but I stayed outside (we went in promptly after Q-Tip arrived to enjoy the festivities. There were other celebs that arrived after I went in like Nia Long, Estelle, Tyson Beckford – though we exchanged hugs and kisses inside, yeah I kinda know him but anyway, oh well). We were told you couldn't take any photos inside (which was totally not complied with as saw about two dozen cameras and camera phones flashing away inside) so I had to stay outside to get photos. While the press were asking the celebs question after question, I had one question and that question was for Q-Tip only, after all it was his night. His album, The Renaissance, drops on November 4th, Election Day is November 4th ad there's a song on there about Barack Obama. I wanted to ask him the significance of the release date – good question, right? Here he is on the carpet doing interviews.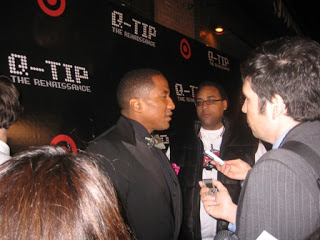 Now you all know this blog is fabulous but on the press totem pole – since I'm a newbie, I'm not very high on that totem pole. I knew I would never get to ask my question so I made a deal with a publication that was standing in front of me who had perfectly clear access to Q-Tip. I asked if they could ask my question and they said sure (they thought it was a great question). Anyway, the question was asked and I got video. See below for Q-tip answering my question on the red carpet
After that is when Marisol and I went in and headed straight to the bar. There were two drinks named after two songs off the album. "Gettin Up", which was Patron, Orange Juice and Grenadine I believe and Dance on Glass which was a Grey Goose Martini. Marisol and I both got the Gettin Up, although it was more of warming up. The bartender made i really strong which was perfect for instant internal heat. After getting our drinks we set out into the party, enjoying the people, the music and the many hors d'oeuvres. I ran into someone I use to kinda work with (same parent company, different brands) yeas ago. A few minutes later, Q-Tip came on the mic and invited everyone to the main room where he was on stage with his DJ.
At first they played a bit of old school hip hop, then some old Q-Tip and A Tribe Called Quest songs (what's your favorite?) Bonita Applebum, you gotta put me on……
Ali Shaheed Muhammad, Mark Ronson, RZA, 88 Keys, DJ J-Period, etc were some of the people who got on stage to say some brotherly love induced words about Q-Tip. But the best part was when Q-Tip got on the mic and gave us a taste of the old the songs we love him for. I haven't heard the album (Press didn't get any advance copies or information about the album that night) but I hope he brings the Q-Tip we all remember. Below are videos of the performances but first a shot of the crowd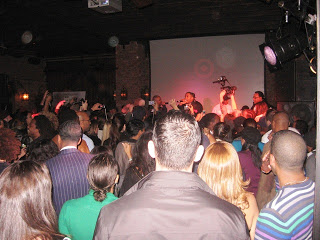 A little after midnight, ok a lot after midnight or 1am, Marisol and I remembered we both had day jobs and left only to be met by rain. Thank god I had a long scarf and she had an umbrella. Great night! I'm exhausted!
Don't forget to vote on November 4th then head to Target to pick up The Renaissance