For anyone who ever said Fashion doesn't care, let me introduce you to Simon Duncan . The Simon Duncan recently collaborated with Praxis Housing Initiatives, whose mission is to bring about sustainable transformation in the lives of chronically homeless persons with HIV/AIDS, mental health issues, chemical dependency, and other special needs. They do this by providing clean, safe housing, and support services that lead to recovery, stability, and ultimately, independence. The epitome of their mission statement is found in Mykel C Smith, once a resident of Praxis and now the Creative Director of Simon Duncan.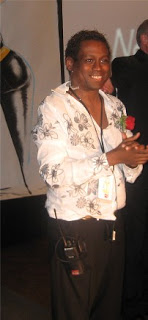 The Simon Duncan Spring/Summer 2009 Collection Event was held at the majestic Prince George Ballroom (from the outside, it doesn't look like much, you might think it's just another office building but on the inside – WOW – an Arabian Castle, the Taj Mahal)
But let's start when you first enter – there's a sort of lounge area which actually is large enough to be used for fashion shows, infact I have attended two fashion week shows there. Anyway, this was where the bar was located and where I was sitting with Jerry while waiting for Kim.
After enjoying a drink (and when Kim arrived and we got our seating assignments), we went into the main hall. At the top of the runway was a large screen with showed behind the scenes fittings of the Simon Duncan Collection flanked by two giant sketches by artist, Alvaro. My favorite was the sketch of the woman (don't you love the flowered hat?)
Although I didn't get a photo of the bar, there were hors d'oeuvres and altough it took some time for them to reach us because the ballroom was so freaking huge, we did get to taste them and our favorite was the warm cheese balls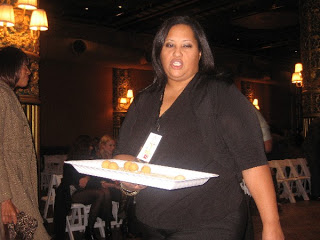 Anyway, on to the fashions. The show had many pieces, more than your average show, it was probably about 50 or so pieces (don't worry I won't show you all the looks, only my favorites)
But the collection didn't only feature womenswear, menswear was also highlighted with great detail.
I did take video and of course it came out horizontal again. DAMN IT!! I wasn't going to upload it on the blog but the clothing just must be seen.
And last but certainly not least, the gift bag