Viva La France!!
On the official first day of NYFW, my first show was Abaete, a luxury line by designer Laura Poretzky; held at the Altman Building, this season's collection was inspired by Les Incroyables (the Incredibles), their female counterparts were called Les Merveilleuses (the Marvelous), "a group of French gentlemen who rebelled against the Revolutionaries by dressing in extravagant clothing, which played upon the prior generation's court garb".
Abaete is also known as the first designer to create a line for Payless Shoes. Before the economic world went into utter chaos, Laura poretzky appealed to the masses who couldn't afford the designer prices but wanted the designer looks. She made Payless very fashionable; women who hid their Payless bags are now proudly proclaiming yes they got their shoes at Payless.
Anyway, on to the show – As a lover of things vintage. I truly felt the emotion of this collection, the colors seemed aged and beautiful, like a sepia picture. I saw muted (some would say faded) colors like Dusty Grey, Old Rose mixed in with Gunmetal Grey, Purple, Black, etc.
I love her mix of color and fabrics. Her dresses were quite feminine and very pretty and her suits and jackets were sharply tailored without looking too costumy or exaggerated. I especially loved jacket with tails, which makes me hate the fact that I donated mine to the Salvation Army two years ago…Damn!!
Anyway, earlier in this post, i mentioned Abaete's shoe colelction for Payless. Well, this season's show featured more shoes than the collection and all I have to say is I WANT!!! For those feeling generous, I'm a size 9.
I got video of the finale but before I post it, I want to talk abou the model who closed the show. Her name is Kinee and she walked that runway like she was walking on gold. She totally "served" that runway walking down in a gorgeous purple and metallic strapless dress with beautifully intricate ruffle detailing at the front.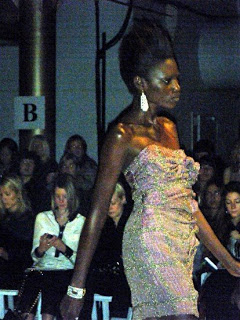 And now please see below for the show finale