How would I describe Thuy's show? The best word visually would be ombre. The colors went from dark to light. Add in a bit of pizazz and we're off. While many of the darks were mainly basic coats, I did see a piece or two that caught my eye. I always like a bit of drama in my outerwear, so the shine and the fabric of the coat in the photo below added just the right touch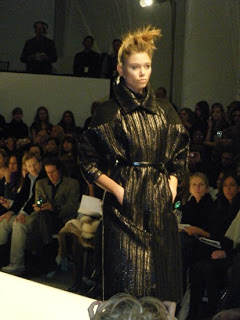 I also saw some key pieces I wouldn't mind seeing in my closet and as I've mentioned many times before, I love color and the below looks are very chic and fun and not just for the fall either.
The last looks, the lightest of the show had quite interesting details. I especially love the black embroidery on the sleeve of the cream coat.
This is the second time attending Thuy's show at the tents (of course this is the second time Thuy's shown at the tents) and I hope to grow with this designer and attend many shows. Her spring collection show was so elegant and beautiful, the theme was Springtime in Paris and it so reminded me of my time in Paris. Oh what joy.