Kim, Alexandra* and I had the pleasure of attending the launch of a new designer's handbag collection. The collection, Bambou by Farrah Delaunau was showcased at the very sophisticated Edward Tyler Nahem Art Gallery.
The collection was beautiful and bold, a wonderful mix of "indigo-resist" printed fabrics (which Farrah designed herself)inspired by West Africa and the supple lambskin. I've always stated my love of color and these collection of Hobos, Weekenders, Clutches and Carry-Alls, etc captured the vibrant beauty of color. The minimalism of the Gallery really puntuated the richness of the Farrah's Bambou Collection
My favorite was a bright pink weekender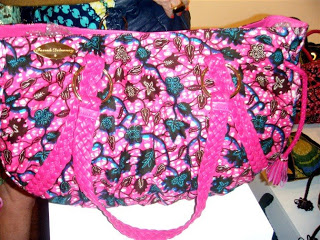 It's big, it's pink and it's a very "see me" accessory – what's not to love.
I got a chance to speak to Farrah and ask her about her collection, see below
I also did some quick video of the bags
After my interview with Farrah I joined Kim and Alexandra* who were walking around enjoying the hors d'oeuvres and meeting some of the event's guests
which included the fabulous ladies from Bath Junkie, located at 227 Mulberry St. (btwn Prince & Spring), who created a special Hydrating Body Mist exclusively for Farrah Delaunay called the Farrah Delaunay Bambou Blend which was included in the giftbag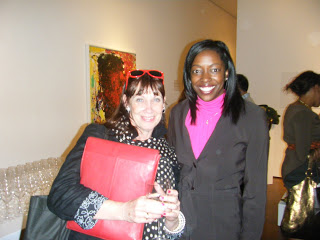 and speaking of the gift bag, here it is