Many of the events I attend are fun but some are just completely awesome and out of this wolrd fun. The Power of Leather Party at Hard Rock Cafe in Times Square was just sucha n event. This event was for the AXE Instinct launch party in conjunction with Rolling Stone Magazine.
Patty, Kim and I decided to arrive early to get ahead of any crowds. We arrived to a swarm of paparazzi and press photographers waiting for celeb arrivals. We decided to bypass that huddle and head straight in. Inside was a display of some of the most famous leather celebrity garments.
Bruce Springsteen's Boots
and Madonna's Bondage Suit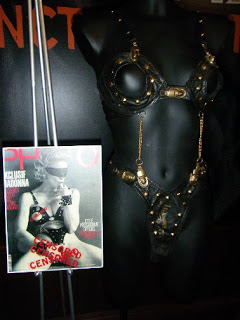 After taking the above photos, we decided to go to the stage level. There were already a few people there and several tables all around draped in leather with small bowls filled with samples of Axe Instinct and of course one of many bars (but we'd just come from another event so only drank soda)
As stated above, the event was hosted by Pete Wentz and Ashlee Simpson-Wentz and surprisingly they were already there when we arrived, which gave me the opportunity to take photos without being crushed by the paps or fans
The night's festivities will included spinning by DJ AM (thanks to Getty Images for the photo – we left before he came on)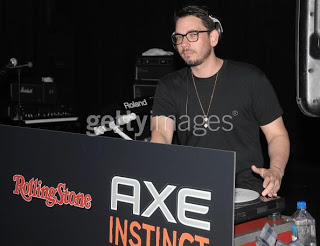 and an exclusive powerful performance from Grammy-nominated Shiny Toy Guns. Some of you may know (or not) but if you're a Gossip Girl fan, then I'm sure you recognize the band from their awesome performance on the finale episode
Patty, Kim and I carried ourselves into the VIP area, which we nicknamed the celeb Pit. Along with Pete and Ashley, celebs such as Lance Bass, Cheryl Burke, Kim Kardashian (And her boyfriend whow as hiding in the corner), American Idol Vet, Constantine Maroulis (totally missed getting a proper shot) came to watch the band perform
and to celebrate the launch of Axe Instinct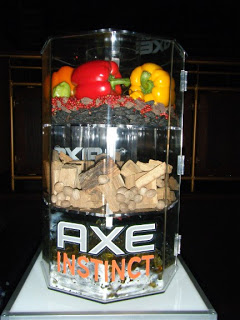 The above display contains some of the elements of Axe Instinct, including Pink Pepper, West Indian Pimentos, Cardamom, Nutmeg, Cedar Wood, Tonka Bean and Amber. Some of the other ingredients are Coriander, Raw Hide Leather Accord, Guaiacwood, Pepperwood and Suede Musk Accord all which give Axe Instinct it's rugged but fresh and kinda sweet scent.
We wished we could have stayed longer but early morning duties made it impossible, so we (Kim and I) grabbed our giftbags (Patty stayed to enjoy the event a bit more) and headed out.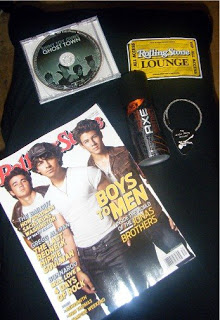 It just so happened that we left just about the same time as the celebs did. They just made a quick stop to sign the leather wall