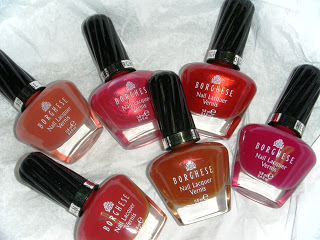 I happily wear Borghese Nail Lacquer on both fingers and toes. I'm currenty in between colors for my fingers but I'm wearing Campanella Bellflower on my toes. I love the colors. Borghese is launcing their new colors for Fall called Tuscan Harvest. Can't wait to try some of these colors this fall. See info below for info on the new colors and check out Borghese Nailcare
THINK: Luxe lacquer inspired by nature's abundance.
WHAT THEY ARE: The rich, deep hues of an autumn harvest in Italy. With the changing of the season and turning of the leaves comes a bounty of fresh, lush produce. From brilliant red peppers and apples to earthy fig and grapevine, Borghese's latest fall collection takes inspiration from the harvest and the earth that nurtures autumn's plentiful offerings.
These long-wearing, rich, nail-strengthening lacquers contain Borghese's exclusive Acqua di Vita complex to help restore healthy moisture to the nails. Micronized Gemstones add strength and brilliance. Each shade comes with a special Duale Curve Tip Brush custom designed to hug the shape of your nail for a smooth, flawless application. The rich, saturated hues are free of DBP's, Toluene and added Formaldehyde.
Tuscan Harvest includes:
Amaretto Fig
Tuscan Earth
Terracotta Rose
Diavalo Pepper
Rossi Apple
Vino Grapevine
THE BACKGROUND: Sophisticated formulas and luxurious treatments don't have to be daunting or overpriced—Borghese offers a total spa experience that's within every consumer's reach. The exclusive, time-honored natural ingredients and innovative technology that epitomize Borghese are infused in every product in the brand's affordable line. Borghese's exclusive original Acqua di Vita Living Water Complex is at the foundation of every nourishing, Borghese product.
WHAT THEY COST: $8.00 each
WHERE TO BUY: Drugstores nationwide