A-List celebs, fashion insiders and other beautiful people came together to celebrate the opening of
Swarovski Crystallized
Concept Store (located in Soho at 499 Broadway) and their partnership with
charity:water
hosted by Nadja Swarovski, Hilary Rowland and Gossip Girl's Blake Lively. Kim, Zia* and I were thrilled to be a part of this amazing event
The 5000 square feet store stretches between Broadway and Mercer Street, with entrances from both sides. "Inside the store, the breathtaking chandelier "Cascade" designed by Vincent van Duysen illuminates the open staircase between the floors. On the ground floor, a retail-lounge-bar area welcomes visitors, while the basement offers deeper insights into the history of Swarovski, and hosts as well various designer exhibitions." Swarovski creates the most gorgeous necklaces, bracelets, rings, watches, brooches, bags and Home Accesories?
The event was fabulous, A-List celebs such as host Blake Lively, Evan Rachel Wood, Lucy Liu and Chloe Sevigny
I also got some video of their interactions with each other
Lucy Liu being interviewed
and a short video of Chloe Sevigny & Fern Mallis
At the event, Blake Lively unveiled a special-edition Swarovski CRYSTALLIZED ™ necklace from which 100% of the proceeds will benefit charity: water. The flagship New York City store is the only one of its kind in the U.S. where customers will have the opportunity to purchase the company's precision-cut loose crystals in addition to customizable and ready-to-wear jewelry.
Each Divine Rock light necklace (which retails for $88) sold can provide people with clean, safe drinking water for 20 years. Makes you think doesn't it?
We know Swarovski makes exquisite pieces but sometimes you might not find something that's "you"; well ladies (and gentlemen), that time is over as you are able to customize your own piece. One wall is covered in various precision cut crystals and jewelry components. It totally brings back the memories of making my own bracelets and necklaces as a little girl but with much prettier pieces.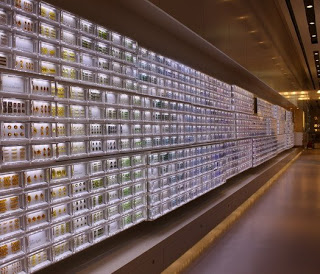 But that's not all, after you've chosen or created your dream piece (or pieces), simply glide down the lavish staircase and sit in the magnificence that is the Swarovski Cafe and Lounge or indulge in the special Swarovski exhibits. Surrounded by the opulence of all those gorgeous crystals, you may perhaps order the "Brillance" (the daily special featuring a traditional dish) off the Spring Menu
Ok, I think I'm over-indulging in this post but Swarovski is a must to visit. We left the event sooner than we wanted but we had another event to go to. While the bags were different, I was lucky enough to get this gorgeous necklace below