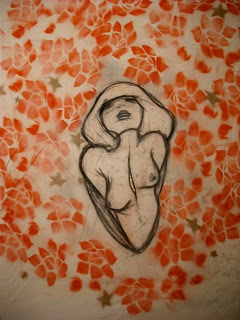 Join Project Runway's Elisa Jimenez for an impromptu POP-UP! BOUTIQUE. One of the favorite Project Runway darlings is in New York, and will be hosting two gatherings.
Come visit and view her latest creations. Available offerings include both classic HUNGERWORLD readymade pieces and new work from her "Other" collection.
Also available will be her stenciled and sprayed work on t-shirts, tricked upon request. There will be fashion magic mischief as always, and white tequila sangria!
FRIDAY GATHERING:
Time: 6:00 – 8:00 PM
Location: 25 W. 68th St. 5G
between CPW and Columbus
Friday's gathering (I'm assuming this is this Friday, as in the 7th) is for 'tribe.' casual and intimate.
children are welcome.
SUNDAY POP-UP! BOUTIQUE:
Time: 1:00 – 3:00 PM
Location: 25 West 68th St. 5G
between CPW and Columbus