***THIS REVIEW CONTAINS SPOILERS*****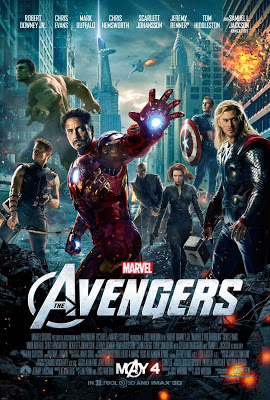 Its finally here, the movie we've all been waiting for. I was lucky to score an invitation to a press screening of the blockbuster and made sure to arrive early as I thought it would be crowded (I was wrong as it was a relatively small gathering for both the size of the theater and the anticipation level of this movie) but I settled in anyway, pad in hand, ready to be wowed – an I was.
Marvel Studios's Avengers brings together the beloved superheroes we've fallen in love with individually, a follow up to Iron Man (1 & 2), The Incredible Hulk (s), Captain America, and Thor, but a movie that should certainly not be seen as a sequel as this would no doubt amaze even if the previously listed movies were not made. Mixing gods, superheroes and aliens, Marvel Studios's The Avengers packs quite a punch. The action begins quite early as we see explosions occur within the first 15 minutes. The fight to save Earth is centered around keeping the Tesseract, a cubed shaped energy source we saw in Captain America, away from Thor's mischievous brother, the Norse God, Loki (who basically broke into S.H.I.E.L.D 's underground location to steal it) and his army of aliens known as Chitauri, whose controlled by an unseen figure (a character we don't see until midway through the end credits).

While there is lots of action, there is also lots of great comedy. Robert Downey Jr. naturally gives his usual great comedic performance but just about all the characters had great one liners, great comedic scenes (and timing). Two scenes stood out to me and they both involved The Incredible Hulk (voiced again by gentle giant, Lou Ferringno) – keep an eye out for a laugh out loud scene with Loki and another (this one shorter) with his brother, Thor. **A brief moment to state that I think Marvel Studios have finally found their Incredible Hulk. Mark Ruffalo is perfect as Bruce Banner. I grew up watching Bill Bixby as The Incredible Hulk and I feel that Mr. Ruffalo truly has the spirit of Bill Bixby and plays the character just as he did. I look forward to seeing his full length feature.** Back to the review. Fight scenes are rampant but exciting, there's a great one with Iron Man and Thor and Captain America breaks it up amazingly. The toys are also fun to watch, the Helicarrier doesn't disappoint, Hawkeye's arrows seem to have their own personality, the two man flying vehicles used by the Chitauri are exactly what you'd expect
Other notable performances were seen by Scarlett Johansson, who played Black Widow/Natasha Romanoff quite well. I admit I totally underestimated her and was happy to be proved wrong. Cobie Smulders (Robin from How I Met Your Mother), who I totally didn't recognize did an amazing job as the strong personality and no-nonsense Maria Hill – hope to see her in more movies. No need to say anything about Samuel L. Jackson – he's Samuel L. Jackson. I think the man was probably born in a long black leather jacket.
***END CREDIT SPOILERS***
Everyone should stay until the end credits as an appearance is briefly made by Thanos, who thrives on Global Genocide and he's looking as evil as ever.