Welcome to the New York International Gift Fair, the premier gift and home accessory marketplace which features approximately 3,000 exhibitors from around the world featuring some of the most innovative home fashion products, sustainable products, beauty, fashion and jewelry, giftware, handmade goods, etc. It is attended by over 30,000 buyers and quite a few press people, such as myself. Held at the Jacobs Javits Center, this is the biggest show I have ever attended. The Show directory itself iwas the size of a high school textbook, so if you ever wanted to me in a trade show where you're surrounded by thousands of exhibitors and millions of products, the NYIGF is for you. I swear you can literally find everything here – Christmas items, children/babies clothing, toys, apparel, etc, decorative accessories, sustainable and environmentally friendly/natural/recycled items, beauty, acessories, food and beverages, etc, the list just goes on and on. Below is the lobby and this photo doesn't do justice to the massive size of this event.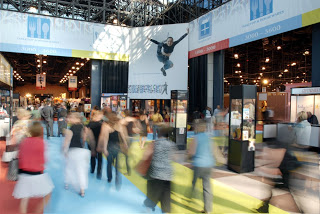 My attempt to walk this show in two days was as absurd as say…..me "trying to catch a falling star and put it in my pocket".
There were so many vendors I didn't quite know where to start; I attempted to make a plan by picking up a press kit for all the exhibitors who supplied one in the press center (which was a lot but not nothing near the number of exhibitors that were actually showing, not even 1%) and select who I wanted to feature (I decided I'd go with the products that caught my attention or seemed interesting) but then on my way to ovarious exhibitors, another would catch my eye. I ended up not getting to visit a few I initially wanted to but luckily since I did take their presskits, I do have a way to contact them for samples, interviews, etc.
The photo you see below is only part on one section of one of the segment. I believe this was the General Gift (which itself was three levels), then there was EX.TRACTS (beauty), Handmade, Just Kidstuff, Personal Accessories, Tabletop housewares, Studio, The Museum Source, Accent on Design, At Home featuring Home textiles and lastly At Home (which was located at Pier 94)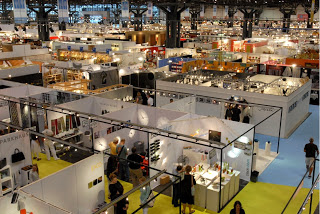 Most of my time was spent in EX.TRACTS, which according to the NYIGF site featured 100 exhibitors of cosmetics, perfumes, skincare, bath & body care, beauty accessories, haircare, natural and organic products and well-being lines . But I did venture out to Handmade, Just Kidstuff and Personal Accessories. As I stated above, the gift fairs/gift guides I previously covered were nothing on this scale but now that my feet have survived (I may have even lost a pound or two), I am super excited that I attended. I got to see some beautiful items, things I was already familiar with and others that took my breath away and even one that brought back memories of my junior and high school. I found some wonderful products that I will be covering individually…Best Gift Show EVER!!