Sassy City Chicks Holiday Fashion Bash is a shopping event that showcases up to 75 designers and offers its shoppers discounts, fabulous goodies at the door and a "girl only" atmosphere. Currently hosted in 5 cities, LA, San Diego, San Francisco, Las Vegas and New York, Sassy City Chicks Fashion Bashes attract as many as 400 shoppers a day and provides a unique platform for designers and sponsors to grow their brand awareness as well as expand their consumer base and audience. This year, we attended the Sassy City Chicks Holiday Event to have our own "girls only" experience. While perusing the different vendors, we encountered some interesting companies.
We started off with In the Clutch Bags, a company that produces tops, pants and dresses retailing for under $90 that you can carry in your purse. Their line, Perfect PouchWear is a collection of traveling clothes for active women.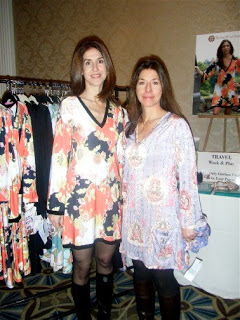 Perfect PouchWear™ is an entirely new line of stylish and stretchy clothing ideal for travel, beach, spa, resort, cruise, or yoga class. The new line features a patented self-storing pocket stylishly sewn into each piece, allowing the clothing to fold down to a small, soft packet that easily pops into a purse, overnight bag, pocket or briefcase. This exciting innovation offers a fun and lightweight wardrobe option that requires no ironing or steaming for active women on the go. See the magic of Perfect Pouchwear below
Next it was on to a line that's truly underground. You've seen them everywhere: on the subway on the sidewalk and in the street. Your favorite subway line or the entire subway map right there on a t-shirt. NYC Subway Line is New York's own clothing line featuring tees, sweatshirts, hats and cool accessories. Creator, Lynne Lambert (not pictured), was inspired by the subways and their riders. One day while waiting for her train, Lynne found herself fixated on the colored circles of the subway sign. They were such a part of the city that she decided to get a license from MTA to produce an entire line of subway fashion! And a new trend was born….
This wonderful line has also helped many a tourist or recent newcomer to New York get around. I remember seeing someone giving a tourist directions from his NYC Map t-shirt. You can visit/become a fan on their Facebook Page or check out their MySpace Page
From the subway to skincare – Do you have a difficult time finding the right skin care? Amea Skindividual is a high end individual solution for each skin situation. Amea believes your skin is not just dry or oily but many variations; so, why treat them all the same?
When it comes to nourishment Amea has learned to supply the body with what it exactly needs. To determine what that need is, Amea first starts with a skin analysis. Jennifer Adler, VP of Amea explains the process.
Lastly we stopped by Charm.ing, as its name indicates, is a company that loves charms. Charms adorn everything: from necklaces to earrings to bracelets to anklets. The charms are designed to fit every taste from the modest, to conservative to trend setter. The collection that caught my eye was simple silver charms designed with pieces to keep the charms in place.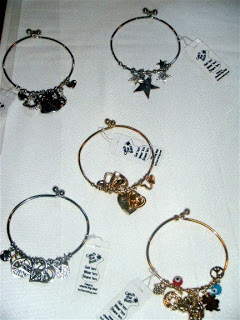 Here'a a bit of a closer look.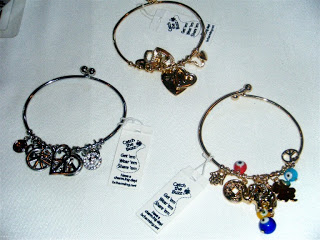 To see more Charm.ing pieces, click on the link above
You should check out Sassy City Chicks the next time they are in town. It's an intimate setting for a "girls only" experience. For more information on the participating companies or to find out the next time Sassy City Chicks will be in town visit the Sassy Chicks site for more information.