Thanks to Ann Taylor, I can now envision how beautiful this summer will be and even though I'm already waiting for summer because I'm not a winter person, there were several reasons to look forward to Ann Taylor's Summer. The collection contained curve-friendly pieces like wrap dresses in traditional and halter styles, shirt and sheath dresses in beautiful bold colors and prints that would compliment a variety of skin . The season's looks were separated into three months – May, June & July.
May, whose theme is Southern Accent, featured soft subtle colors like stone, sand, periwinkle, etc in comfy cotton and cotton Sateen
It also featured delicate and romantic accents like mini pearl and crystal embellishments, lace, etc. May also was filled with basic suiting and dresses, all the details were really in the tops and jewelry.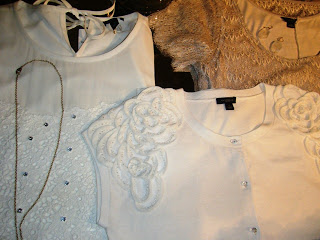 June on the other hand was vibrant; the theme In the Tropics with it's rich colors like magenta, coral, eggplant, red and black captured the essence of sunny and breezy June.
Although I do love color, I couldn't help but be drawn to the looks that were more Safari look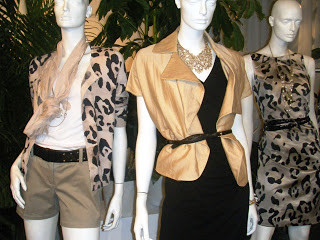 July's Urban Oasis was filled with vibrant cool blues such as turquoise, teal, azure and aqua. These sea blues are the perfect tones to keep you cool in July's ferocious heat, especially when mixed with silvers and tans (which you will not is available in both May and June looks). Also note the easy transition from bolder more prevalent animal print in June to the small one in July.
Now on to jewelry and shoes. The necklaces were big, bright and colorful; a perfect addition to any outfit. The Noir necklace, one of my favorites, was made of purple and clear jewels that could be paired with any cut top or dress. It could dress up a pair of jeans or accessorize your date night outfit.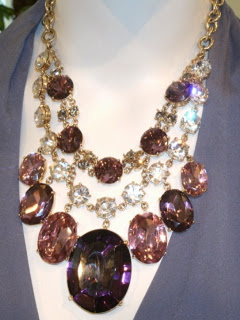 But any of these below would certainly make my heart flutter – you can't go wrong with romantic and pretty baby pink Pave encrusted stones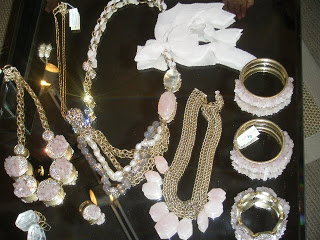 There were several very chic shoes and I am always the one to run for anything with a high heel but to my surprise, it was two of the flats that caught my fancy. Two beautiful bejeweled treats for any feet. My favorite are the Piper Embellished Sandals (the ones with the bows, crystals and pearls) – I Want, I Want, I Want
Last year, Ann Taylor introduced Luxe Lounge, a lounge wear line which contains soft, comfortable separates in calming and neutral colors. This new line would be a great replacement for a lady's weekend wear of sweats and everyday jeans. Delivery for most of these pieces will begin in May – try your best to be patient
Lastly but certainly not least on the grand summer tour is Casual Chic, a line of beautiful summer whites, which range from stark white to ecru and consists of tanks, and t-shirts with delicate silk trims, blazers, white jeans, lurex scarves, crisp white shirts and the most angelic piece of clothing I have ever seen – a very soft baby pink Sequined Cardigan
Come this May, I think every woman will be looking forward to Ann Taylor's Summer.