For the third season in a row, Arise Magazine African Collective showcased the talent of African designers. This season we were introduced to collections from Black Coffee (South Africa), Loin Cloth & Ashes (Tanzania) and Deola Sagoe (Nigeria). The show was held in the Tent which is the biggest of the three venues at Fashion week and was featured in three segments: First Light, Noon and Midnight.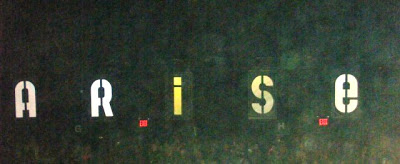 Black Coffee, which was featured as First Light featured soft muted colors such as sand, putty, rose and aloe. Inspired by African masks, the design duo created lavish padded and quilted coats worn over their signature dress. I had a chance to get video of their entire segment in two parts – their collection and then the models' finale
Next up to showcase Noon was Loin Cloth & Ashes; designed by Anisa Mpungwe who was inspired by her father's hometown of Ifakara in Tanzania, Loin Cloth & Ashes featured structured lines and monochromatic hues. Filled with black and greys and an origami bird featured throughout her collection, it is an easy fit with New York's style
Last but certainly not least was Deola Sagoe who was the Midnight of this trio and midnight was the perfect description to her collection. Inspired by East African Maasai Warriors and 18th Century European Military Uniforms, Deola's looks featured structured shoulders, tapered pants, body conscious mini dresses with beading, lace and other embellishments. I must say hers was my favorite out of the three and the audience agreed with me as she got a mostly standing ovation.
And finally, the show made little ole me feel quite special as our seats were all personalized and what can I say – I like seeing my name in print