Women with small breasts sometimes find it hard to find cute undergarments that fit. Not anymore! We've found four companies, all launched to make women with smaller bust feel sexy, comfortable and proud of their size!
The Itty Bitty Bra Company (yes that's really its name) has a line of undergarments that promises no gaps, puckering or slipping on women lucky enough to be a size AA, A or B cup.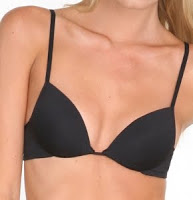 Their stylish and comfortable lingerie line consists of bras, camisoles, panties, thongs and boy shorts.
Another company that includes, rather than just completely cater to, smaller busted women is Honeydew Intimates (they go up to size XL); I tried  a navy, ruffled bra and boyshort set.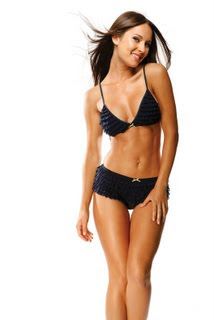 The bra fit perfectly around the back leaving no gapping. I was really surprised by the fit given the fact that there was no way to adjust the top. I did find the clasp on the bra a little challenging the first time I put it on; the latch wasn't your typical bra closure so it took a minute for me to figure it out. While there was no padding, the ruffles gave a nice illusion of slightly larger breasts that made me feel even more appealing. The look of the bra and boyshort set resembled something a "pin-up girl" would have worn… classy, sexy, feminine appeal.
Another company that caters to those in the below C category is The Little Bra Company. Owner Emily Lau has combined her love of lingerie and need for cleavage to create a brand that celebrates the fact that good things do come in small packages. Years of shopping in department stores and sexy lingerie catalogs left Emily supremely frustrated, as she discovered that the bras that fit well looked like training bras and the sexy styles never fit quite right. Although, now that invisible bra tape has become popular, finding a bra to fit every single outfit is no longer necessary, so Emily just needs a couple of bras to fit her needs when not using tape. Emily's desire to make the most of her assets (without silicon or saline) prompted her to make what she calls "the perfect little bra." Emily explains below
For women looking for enhancement rather than just a good fitting bra, Nu Bra offers self-adhesive products that can help create cleavage and/or an illusion of bigger breasts. One product of interest is the self-adhesive strapless, backless bra with washable silicon adhensive. The bra is constructed to be easily removed and reapplied while giving a lady the "lift" she desires. They also have silicon breast enhancers which are designed to feel "life like". The enhancers come in small, large and extra large to provide lightly padded to 2 1/2 size increase respectfully.
To learn more or to find out where you can purchase these products, click on the company names above or on each link below:
www.ittybittybra.com
www.honeydewintimates.com
www.thelittlebracompany.com
EDITED BY GLASGOW SKINNER