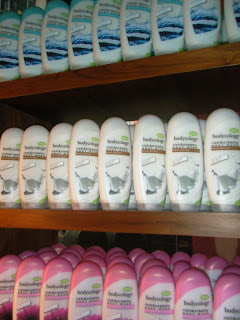 While many of us are really looking forward to Spa Week to get to enjoy some spa services in this crumbling economy, there is a ray of light for those of us on a budget that are trying to enjoy a Spa-like bath and relaxation at home. Welcome to the world of Bodycology and Dr. Teal's Therapeutic Solutions, who held a preview at Spa Butterfly to preview their new products. After a wonderful and much needed massage, I was introduced to the products. Let's begin with the affordable, luxurious bath and body products from the ridiculously wallet friendly Bodycology.
I'm not sure if I've ever mentioned this here but my friends know this – I LOVE Body washes, I mean love, so when I was presented with this wall of Body Washes from Bodycology, I admit I did get a bit lightheaded. This is basically what I go through when I'm replenishing my body wash stock. So many choices it's difficult to select especially if there are new products. With this new line, Bodycology has added to this difficulty. Their New Rich & Creamy Body Wash, which became available this month, is available in these formulas – http://drnitalandry.com/?kaletra=lopinavir-nursing-responsibilities Hydrating, kaletra as prep Nourishing and go site Skin Softening, lopinavir para que sirve Deep Cleansing, kaletra interactions Refreshing and enter Ultra Rich. "Each body was addresses specific skincare needs with relatable ingredients that deliver impressive results."
I have been currently using the Deep Cleansing, which has Grapefruit and Apricot Extract. It, like all the other formulas, are "infused with Silk Extracts and Avocado oil into it's skin softening formula while Aloe Vera and Vitamin E are used for Hydrating and Soy Milk and Shea Butter are blended for Nourishing." They retail for a very low $4.99 and are available nationally at such stores as Walgreens and Bed, Bath & Beyond.
From the body to the feet (and the body too) – Dr. Teal's Therapeutic Solutions is the answer for when your body is weary, beat up and worn out. For centuries, we've known about the relaxing benefits of Epsom Salt (no, it's not just for your grandparents anymore), many people use to reduce stress, improve the body's circulation and even lower blood pressure as well as a host of other beneficial uses. "Beauty lovers use http://dein-kurier.de/?de=ritonavir-coronavirus-coronavirus Dr. Teal's Epsom Salt Soaking Solution as a gentle exfoliant for the entire body and to reduce bloating and swelling. It also revives skin's complexion for a dewy, healthy glow, lessens the appearance of bruises and naturally softens the skin."
This miracle product is available in source Sleep (Lavender), Sensuality (Amber Vanilla), Rejuvenate (Mandarin Lime), Relax (spearmint) and source site Calm (Chamomile). A 3lb bag retails for only $4.99 – quite inexpensive for putting for body at ease and stress free. An extension of the above Epsom Salt Soaking Solution is the Dr. Teal's Body Lotion, available in the same scents, not only will you be completely moisturized, it will also extend the life of your soaking solution scent.
Check out more information on Dr. Teal's products below
The product I have really tried ( and enjoyed) is the Peppermint Foot Soak (launched March 2010) – and oh how I wish I had this during fashion week. I got instant gratification after soaking my feet.
After a particularly heavy event laden day running from event to event (in heels), I was beyond happy to rip into the Peppermint Foot Soak. You know that feeling when your feet hurt so bad it's throbbing or should I say pulsating. If I could somehow sleep with my feet soaking, I would have but it was unnecessary since my feet started feeling better after only 5 minutes and back to 100% after 10 minutes – Hallelujah! For a mere $3.99, you could be singing its praises too.
Spa Butterfly is participating in Spa Week (April 12th – April 18th), they are offering the following treatments for $50:
45 Min Customized Aroma Massage
45 Min Rejuvenating Facial
45 Min Intensive Signature Spa Pedicure
Spa Butterfly is located at:
155 East 44th Street
New York, NY 10017
212.682.6073
https://secureservercdn.net/50.62.172.113/3a2.70d.myftpupload.com/wp-content/uploads/2010/04/bodycology-and-dr.-teals-002.jpg?time=1593684625
320
240
Glasgow Skinner
https://mylifeonandofftheguestlist.com/wp-content/uploads/2020/07/Webp.net-resizeimage-1030x151.jpg
Glasgow Skinner
2010-04-01 02:50:00
2015-08-20 21:36:34
Bodycology & Dr. Teal's Therapeutic Products