It's that magical time of year again; a time when all can indulge in a few spa servies at the wallet-friendly price of $50 – it's
Spa Week
. I'm not talking about a regular massage or generic facial, you can get spa services specific to your skin and body needs. Spa Week offers full service Spa packages for just $50 dollars to over 700 participating spas.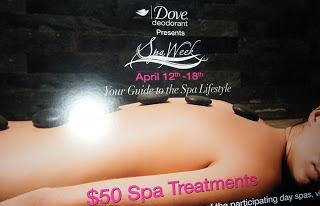 Spa Week also brings the Spa Week Media Party, an event I always look forward to because it's a chance to leave the stress of the day behind and just relax and experience the Spa Week Sponsors. This season, we got to enjoy the following: Dove Deodorant's Piticure (a spa treatment for your armpits created by Dove Deodorant), wine from Vibrant Rioja, spa treatments from Spa Chicks on the Go, and services from some of NY's most loved Spas, the latest (and most fantastic cakes)from the Wedding Channel, makeup touchups from Bare Escentuals, amazing food and a freshly made mix of raw seasonings from Flame Deal Events and Catering and of course the amazing Spa Week Giftbag.
I arrived at the Prince George Ballroom (where the event was being held) early because I knew the spa appointments would fill up pretty quickly and I was a bit overdue for some eyebrow grooming so I headed directly to the fabulous Feline Spa after checking in for some maintenance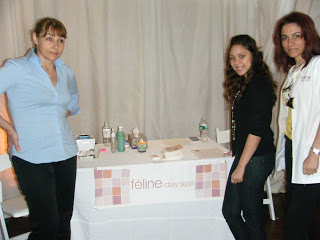 My next stop was to the Dove Deodorant booth to experience the Piticure, get a hand and shoulder massage, have a refreshing PitiTini, sit and relax. I was lucky enough to get an appt right away.
After my Piticure with Dove Deodorant, I made my way to Bare Escentuals but they were quite booked for the rest of the evening
I decided to try Spa Chicks on the Go but they too were booked solid – I did get to enjoy eyebrow shaping from them at the last Spa Week event, I was hoping for another massage but it wasn't meant to be so I ventured on to the decadent chocolate fountain where I enjoyed warm chocolate covered marshmallows, bananas, strawberries, cookies and pretzels
My next stop was the next table to sample the delicacies from Flame Deal Events and Catering where quite a few people were fighting to get their hands on the delicious dumplings.
There was quite a long line and after tasting the dumpling, I understood why. After making a few more rounds enjoying more of the tasty cake samples from the Wedding Channel and wine from Vibrant Rioja, I picked up my gift bag as it was time to move on to my next event
All that's left for me to do now is wait for my $50 spa treatments I have booked for Spa Week.