I had the pleasure of attending the tasting of new luxury champagne,
Armand de Brignac (also known as "Ace of Spades")
. What is Armand de Brignac and where did it come from you may ask? According to their press material,
"Armand de Brignac (also known as "Ace of Spades") is a huge favorite among celebrities, particularly Jay-Z, P.Diddy, Beyonce, Alex Rodriguez, and so on. Often seen-on-the-scene at celebrity events, videos, and in songs, Armand de Brignac, or "The Aces", has quickly become the must-have Champagne of choice for A-listers across the globe. We were recently rated the #1 Champagne in the world in a blind taste test of 1,000 brands, beating out our main competitors – Cristal and Dom Perignon."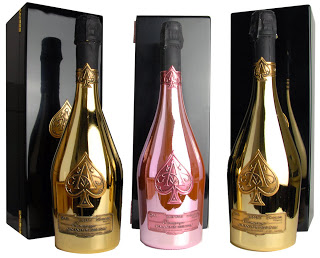 Armand de Brignac held the tasting of their Gold Brut, Rose, and Blanc de Blancs Cuvees at their downtown offices; the event was hosted by celebrated Latin chef, Alex Garcia of Calle Ocho Restaurant whose delicious food we devoured. I walked into the darkly lit loft-style office space to bottles of the champagne everywhere, after checking in, I was immediately given a glass of the Gold Brut (I arrived too late to enjoy the Blanc de Blancs). I don't usually like bruts but this one I very much enjoyed and I surely was not the only one.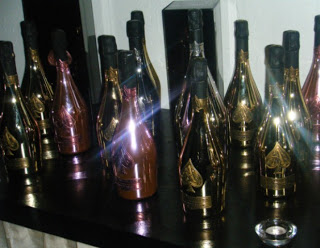 I first heard of Armand de Brignac when it was featured in a scene of rapper Jay-Z's video for his song "Show Me What You Got" where it was delivered to him in a silver briefcase. Everyone wanted to know was that gold bottle real. Wherre did it come from. The UK's telegraph quoted "Jacques Cattier, president of Cattier Champagne, Armand de Brignac's producer with just 20 staff based in the village of Chigny Les Roses in Champagne-Ardennes, said he was astonished by the rise of the brand, which was only launched in 2006. The name – taken from the hero of a 1950s romantic novel – was suggested by his mother. "We could not imagine the success we have had," he told The Independent, saying that they could sell out their 60,000-bottle production run several times over." See my interview with Esther-Mireya Tejeda on Armand Be Brignac (she and I both share a love of Rose Champagne)
and speaking of Rose, see the video below for more information on Armand de Brignac Rose and the delicious dessert it was paired with (the last hors d'oeuvres photo above) FYI – I am in love with the pink metallic bottle
As I stated I love Rose and this one was a winner with me. I gladly had my glass refilled again ( um…an again). Unfortunately I cannot afford to purchase this champagne and drink it as freely as I want thanks to little pesky things called bills but hopefully our paths will cross again at other events (yes there might be a bit of champagne stalking in my future)