Do you love Sample Sales? How about Cocktails? Complimentary Spa Services get you all tingly? Well throw in a DJ and you've got the Sassy City Chicks Fashion Bash. You may remember that I discovered Sassy City Chicks in December 2009 when I attended their Holiday Fashion Bash. This time it's bigger and better.
"East Coast shoppers are in love with trendy weekend sample sales! This trend has taken a new shift from causal weekend sales to girl's night out events, at upscale, trendy venue's creating the shoppers ultimate paradise. Enter Sassy City Chicks Fashion Bash! Our 2-DAY NYC Fashion Bash includes a live DJ, sponsored cocktails, complimentary spa services, and of course, our center of attention: designer labels at up to 80% off. "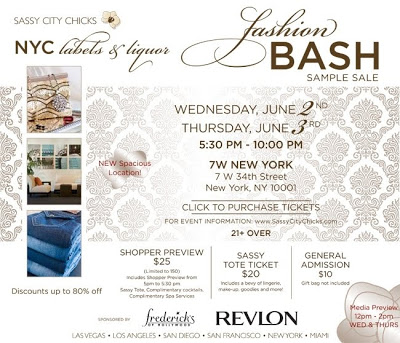 Shoppers who attend this event with the purchase of a Sassy Tote Ticket ($20) will receive their fabulous Tote with a bevy of trendy goodies valued at over $50. There will be a "Shopper Preview" from 5-5:30pm for the first 150 ticket purchases per day – allowing the early birds early access to the showroom floor.
General Admission tickets are also available to purchase in advance or at the door for $10.
As a special for you lovely readers, usethe following PROMO codes for discounted access to the event!
For Free General Admission Tickets, use Promo "GENAD" (No Gift Bag)
For $5 off Sassy Tote Ticket (Gift Bag Included) and $5 off the Shopper Preview Ticket (Early Access and Gift Bag) use Promo "NY5"