October is Breast Cancer month, but why wait until then to showcase products that are made specifically to help the cause. Breast Cancer sufferers and survivors live their disease every day, so we should be talking about it everyday. I attended the Breast Cancer Pink" Products Showcase, part of Consumer Products Events, to get more acquainted with products that are fighting this disease.
You may remember my mention of Victorinox Swiss Army products from my Breast Cancer Pins Giveaway which were generously donated by Victorinox Swiss Army. They partnered with the Susan G. Komen for the Cure three years ago and introduced several products including the Classic SD Swiss Army Knife and Alliance Sport Luxury watch.
Many know of my love for candles; I have featured several candles from the time I began writing about products, so it was a pleasure to get introduced to Root Candles. Root introduced The Legacy by Root Hope Candle exclusively for Susan G Komen for the Cure.
The Legacy by Root Hope Candle is available now and retails for $30.00 with 10% of the proceeds going to Susan G. Komen. The Hope Candle is available in three fragrances, "each designed to stimulate the senses and provide an overall feeling of wellness and hope." The available fragrances are Port Cozumel, Golden Chrysanthemum and Fresh Lime Blossom. You can purchased the candle HERE.
I was also introduced to Armpocket, "a comfortable arm strap carrying device engineered for runners, athletes and people on the move."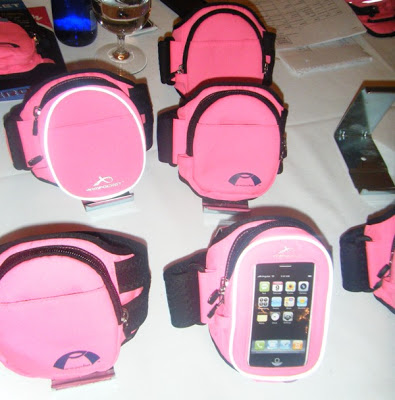 The Armpocket is moisture resistant, a memory foam padded patented v-strap and a flexi-lock audio port at the bottom. It comes in three styles – Xtreme30 (30 inches of storage space), Sport20 (20 inches of storage space) and Aero10 (10 inches of storage space) and can hold iPhones, keys, iPods, credit cards, lip balms, etc. 10% of all sales of pink Armpockets will be donated towards helping to eliminate Breast Cancer
Next it was on to Cook for the Cure presented by Kitchenaid, which gives people with a passion for cooking a way to support the fight for cure.
As you can see, all the appliances displayed are pink in support of the fight against Breast Cancer. Kitchenaid donates more than 10% of the purchase price to the Susan G Komen for the Cure. Kitchenaid also has wonderful events to further help fight Breast Cancer – "1000 Cooks for the Cure, going on from July 16th – July 18th will tap affiliates, survivors and all those engaged int he fight against breast cancer to turn on the oven and turn p the party music for this great cause. Each party host will be one of – hopefully – 1000 cooks across the country who will join together to share great times, enjoy great food and donate anything they can to help find a cure." If you want to help the cause, you can purchase and find out more on these beautiful pink products by visiting the Products List Page on Cooks for the Cure.
My next stop was a company I was really excited about because not only am I a fan of their products, I currently own a few of their products. What company am I talking about? It's Conair, maker of some great grooming tools. Conair has some great products from their Conair Power of Pink Collection, including Hair Dryers, Roller Sets and Hair Straighteners like the Mini Pro 1/2 inch Ceramic Straightener ($19.99) shown below. These custom-
designed pink products, displaying the iconic pink ribbon emblem, keep consumers looking great while supporting a greater cause!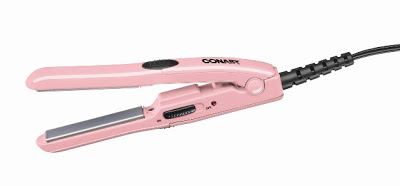 It's the perfect size for travel and emits even heat in minimal time. Gentle on hair, this mini tool provides fast styling, straight up! One dollar from the sale of each Mini Pro is donated to The Breast Cancer Research Foundation. Conair is committed to donating a minimum of $100,000 to The Breast Cancer Research Foundation; a minimum of 85 cents of every dollar raised goes directly to research and public awareness programs. Other Power of Pink products includes Power of Pink Mini You Style ($19.99), Power of Pink You Curl ($49.99) and Power of Pink MiniPRO® Dryer ($19.99)
As you can see, there are some great products available which help you join the fight against breast cancer. There were several others such as Revolution Tea (which I will cover in more detail in another post because I fell in love with their Chocolate Orange Green tea),
Barlean's, Breast Cancer Sisterhood, Confident Clothing, EmergenC, Foot Solutions, Greens Plus, Igloo, Luisa Luisa, Matcha Source, Pink Daisy Project, Pink DaysAgo, Presents for Purpose, Smart Mom LLC and Yoga for Cancer.