As a New Yorker (note to those moving to/visiting New York), you must be able to walk everywhere. Sure we have tons of public transportation but hiking the city streets is a badge of honor for us. Most times its actually faster to walk somewhere than to take public transportation. With that daily routine, we get stronger, have more stamina (also might be why we walk so fast), etc.
So as I said before, I walk everywhere, lots of times running from event to event or just enjoying morning cardio but as most other New Yorkers, we don't think about the health benefits, we just think about where we have to get to. This is why I stated using a pedometer. I wanted to measure just how much I walked. I started using a vitamin company's promo pedometer, it was made with a pendulum which measured your movement….but that was the problem, it measure every movement – standing, sitting, turning, so I never got an accurate count of my steps. But then I discovered the Omron GOsmart Pocket Pedometer with Activity Tracker, a motivational tool for fitness enthusiasts on the go and those interested in improving and maintaining health.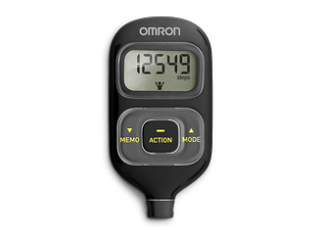 Unlike other pedometers, Omron's GOsmart Pocket Pedometer has 2D smart sensor technology so it knows exactly when you're taking a step. More specifically, it "tracks step count, distance walked, calories and fat grams burned". As I stated I walk everywhere so I was really excited to try this pedometer and after trying it for the first time, I can see the motivational factor – my competitive streak kicked in immediately as I wondered if I could beat my time. For my morning constitutional, I had these results:
STEPS: 2404
MILES: 1.1
KCAL (CALORIES BURNED): 115
G (FAT GRAMS BURNED): 6.8
and below are my results for the entire day:
STEPS: 6989
MILES: 3.1
KCAL (CALORIES BURNED): 276
G (FAT GRAMS BURNED): 15.7
This knowledge has also motivated me to keep an eye on my caloric intake, which I plan to reduce. The other great thing about the GOsmart Pocket Pedometer is you can put it in your pocket, bag or hang around neck. See below for more of its features:
"Activity Tracker – Tracks exercise results for a specific time period for those who want to see the results of their timed exercise; one activity measurement is stored at a time

Auto Stride – Stride length is recommended by entering height and weight; stride also can be entered manually

7-day memory – Stores seven days of information

Sleep mode extends battery life after 5 minutes while continuing to count steps

Features a clock and automatically resets at midnight

The GOsmart Pocket Pedometer is also available in pink, purple and yellow"
The Omron GOsmart Pocket Pedometer with Activity Tracker retails for $34.99 and is available at www.omronwebstore.com (who currently has it on sale for $27.99), online retailers, specialty and sporting goods stores.