It may seem too early (really, it's not) but it's time for some spring cleaning. The 2012 spring collections are hitting stores as I write this and I know that you guys will be doing some shopping for the spring hot trends – that means one thing – it's time to make room in your closet. This means getting rid of things you haven't worn, seen or even remember purchasing. Though it sounds like a very difficult thing to do (honestly, it is) but it's not an impossible task; Professional Organizer, Barbara Reich, of
Resourceful Consultants
has some great tips to help you declutter your closet and take it from the below "Before" to "After".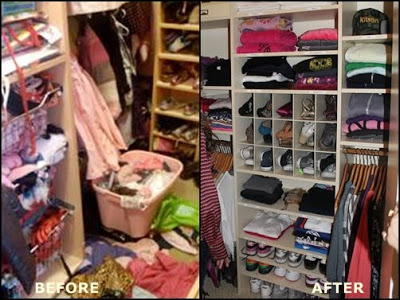 Not only does she offer tips on all different areas of life that may need streamlining, such as time management, clutter purging and control, space planning, closet design, one-touch paper management, apartment staging, etc, she also designs built-in units to fully utilize space you never knew you had. I had the pleasure of visiting her home and was blown away by how organized it was (see photos below). A huge difference from my chaotic closet. She offered great small tips to help me get organized and while I'm still a work in progress, I have gotten rid of quite a few things I do not need anymore. Imagine what she can do for you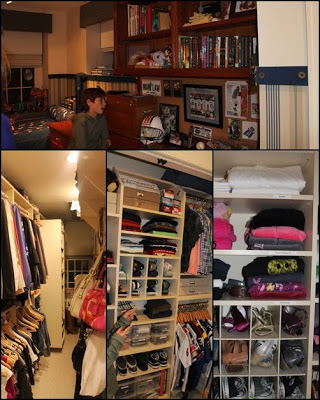 To learn more about or get in contact with Barbara Reich, visit http://www.resourcefulconsultants.com, "Like" her Facebook Page or Follow her on Twitter.
About Barbara Reich
For Professional Organizer Barbara Reich of Resourceful Consultants, eliminating clutter is a way of life. Barbara tackles organization with a 360-degree approach, streamlining the homes, schedules and daily lives of discerning clients. Equal parts affable and type A personality, Barbara's tough-love approach yields real results and lasting change
With a BA in Psychology from the University of Pennsylvania and an MBA in Management from New York University, Barbara began her career as a management consultant, a profession in which she excelled as a result of her efficiency and attention to detail. Today she applies the same skills to help her clients rid their homes of excess clutter, streamline overbooked days and improve quality of living.
Known for creating solutions that are as aesthetically appealing as they are practical, Barbara transforms each space from the inside out. From powerful executives to busy mothers, clients appreciate Barbara's unwavering confidentiality and eye for design.
A native of North Miami Beach, Barbara formed Resourceful Consultants, LLC in 1999. She and her husband, real estate attorney Jeff Reich, live in Manhattan with their eleven-year-old twins. Barbara has appeared on the Today Show and has been featured in the New York Times and New York Post among other publications.