It was back to The Plaza Beauty to discover another wonderful product. This time to meet beauty favorite Sara Happ, the creator of the iconic and cult favorite, The Lip Scrub, the original exfoliant for your lips.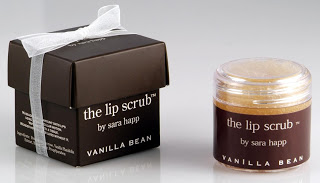 Well I'm happy to say that Sara has extended her scrub line just a bit to include a Body Scrub. Just like what the lip scrub does for your lips, the Body Scrub eliminates dry, flaky skin to leave your body ridiculously soft and supple. The Body Scrub is available in Vanilla Bean only; Vanilla Bean is of course the most popular of the Lip Scrubs, so it was a no-brainer for Sara to do her Body Scrub in her most popular fragrance
And I must say, I tried and loved it. The sugar granules melted right into my skin and after a few gentle scrubbing, my skin was left soft and hydrated. I must also note that unlike scrubs, my bathtub was not turned into a dangerous slip and slide. If you love Sara Happ's Lip Scrub then you will absolutely adore her Body Scrub.
Please see my interview with Sara on the newest addition to her bath and body collection.