As a blogger, I own three computers – desktop, laptop and a netbook and while most people will read this and wonder why I have so many, it's because after downloading so many images, videos, presskits, etc, computer systems become cluttered and tend to start running slow or crash or just plain burn out. While attending Pepcom, one of many events where companies showcase their products to media, I was lucky enough to come across a much needed product – System Mechanic, the number one Tune-Up Software from Iolo Technologies.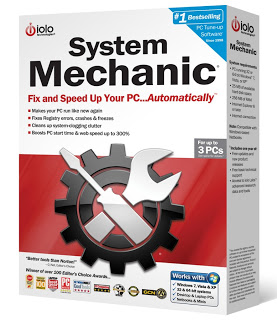 For less than $50, you can get a "new" PC, as System Mechanic tunes up your old computer to get back that like-new performance. This award-winning tune-up software consists of more than 50 tools, suitable for novices and experts, that will consistently maintain the computer. To show you just what I'm talking about, I videotaped my experience with System Mechanic. The videos are in three parts – before installing System Mechanic, installing System Mechanic and after installing System Mechanic. See below for the first video (first, apologies for my messy apt, I was in the middle of cleaning and I did these videos while taking a break)
As you can see, my laptop (which is older took a long time to log on and actually on most occasions would freeze up) was a perfect candidate to run System Mechanic. While discovering more on this great software, I discovered there are at least 9 causes of PC slowdown, they're listed below:
Program misalignment
Available RAM decline
Windows start-up bottlenecks
Redundant programs
Mismatched internet settings
Registry errors
Registry bloat
Fragmented system files
Accumulated clutter
The second video is just installing and running the program on this painfully slow computer, so bear with me (and I hope I'm not too boring)
and finally, my laptop after installing and running the System Mechanic software. Funny thing about logging on, I didn't even have time to get the video camera ready to film, everything came on so quickly as soon as I hit the power button, so that why the video below starts on view of my desktop screen.
From that point on, I have been enjoying a more efficient and faster performance form my very old laptop and the other best part, I was able to use the same installation code for my desktop computer whose memory was beginning to get clogged up. So if any of your computers are sluggish, running slow, freezing or crashing, checkout System Mechanic from iolo technologies. You won't be disappointed.
About iolo technologies
Crowned the Fastest-Growing Company in the United States in both 2010 and 2009 by the American Business Awards, iolo technologies, LLC (www.iolo.com produces award-winning software that repairs, optimizes, and protects Windows computers. Founded in 1998 and headquartered in Los Angeles, iolo has presence in 33 countries, more than 30 million users worldwide, and hundreds of awards from industry analysts and media. The iolo product line includes System Mechanic®, the #1 best-selling PC performance software; System Mechanic Professional®, an all-in-one suite of both PC performance and security tools; Search and Recover™, a powerful data recovery tool for retrieving deleted files and photos; DriveScrubber®, the #1 best-selling utility for permanently erasing data from hard drives; as well as System Shield®, performance-focused antivirus and antispyware software. For more information see www.iolo.com.