Even with the daily creation of newer cell phones, we still have the same cell phone towers (the new 4G network still doesn't work everywhere) so we still have signal and range issues. I live in New Jersey and whenever I'm driving down Boulevard East in North Bergen, there is an area where I get no signal. Of course there's been nothing I can do about it until now, thanks to the Cell Ranger STIX In- Car Kit from The RepeaterStore.com.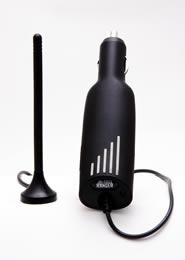 This genius device improves voice and data services in your car. It features a microprocessor which actively monitors the frequency and concentrates it's power where it is needed. The Cell Ranger STIX is wireless, and works with all cellphone and data card models – from the most basic handsets to the latest smartphones!. It is dual band, and so works with all US carriers except Nextel. Below are all the specifics:
•Dual Band: Improves all PCS 1900 MHz and Cellular 800 MHz sub bands.
•Revolutionary microprocessor provides superior signal improvement.
•For use with car/truck.
•No installation needed – just plug it in!
•Supports both cell phones and data cards.
•30-day money-back guarantee.
•Retails for $149.00
Installation is incredibly easy. Just place the magnetic antenna on your car's roof or trunk, and plug the unit into your car's cigarette lighter. The cable from the antenna to the unit can be run through a door or trunk seal. Once plugged in, the Cell Ranger is up and running and improving your reception.To find out more about the Cell Ranger STIX and keep up with The RepeaterStore.com's other devices, such as:
WiEx Soho YX545: For boosting cell phone signal at home or in a small office
Wilson DB Pro 841262: For boosting cell phone signal in a large building/office (greater than 5,000 sq ft.)
Wilson SignalBoost Pro: An alternative mobile signal booster for cars/truck.
make sure you visit The RepeaterStore Blog and sign up as a follower. Now on to the amazing news.
One lucky reader will win the Cell Ranger STIX . Enjoy a stronger and clearer signal while you make and receive those important calls.
To enter this must have giveaway:
Extra Bonus if you:
1. Tweet this Contest – tag @guestlistblog and @repeaterstore
3. Share this contest on Facebook
5. Become a Fan of My Life on and off the Guest List on Facebook
STIX CELLPHONE IN-CAR KIT SIGNAL BOOSTER GIVEAWAY
NO PURCHASE NECESSARY. Void where prohibited. Must be legal U.S. and Canada resident, 18 yrs or older to enter. Sweepstakes to commence on November 21st, 2010 at 12:00:00 a.m. Eastern Time ("ET") and end on November 27th, 2010 at 11:59:59 p.m. ET. My Life on and off the Guest List will determine (1) one winner by a random drawing from all eligible entries to receive One (1) STIX Cellphone In- Car Kit Signal Booster. Limit one prize per household. Odds of winning are dependent on the total number of eligible entries. Approx retail value range of prize $149.00. Winner will be notified by email. Offer valid while supplies last. Giveaway sponsored by My Life on and off the Guest List; Prize provided by RepeaterStore.
WINNER ANNOUNCEMENTS: Congratulations to Barbara Wright, winner of the STIX Cellphone In- Car Kit Signal Booster Giveaway (winner selected at random by Random Number Generator)