I love holiday parties. I know what you're thinking – who doesn't, right? But maybe unlike you, i don't love everything about it. I love the decor, the togetherness, the gifts, etc but my god I am sick of eggnog. I know its a holiday party staple but we are seriously in desperate need of a change. Holidays cocktails do not have to be the same old boring stuff. Even a shot of smooth rum (or two) cannot persuade me anymore.We need cocktails that are a bit more excited, a bit more thrilling, a bit more x-rated. I've been on the hunt for new holiday cocktails and since
X-Rated Fusion Liqueur
gave me the wonderful
Haunted-X Halloween Cocktail
, I didn't have to go too far to get some spicier and sexier cocktails. So to begin, I'll ask – are you in the mood for a little holiday mischief? Hopefully you shouted out YES!!! I hope you are prepared because the recipe is below. This pink and orange bubbly is sure to tickle more than you fancy
Holiday Mischief Maker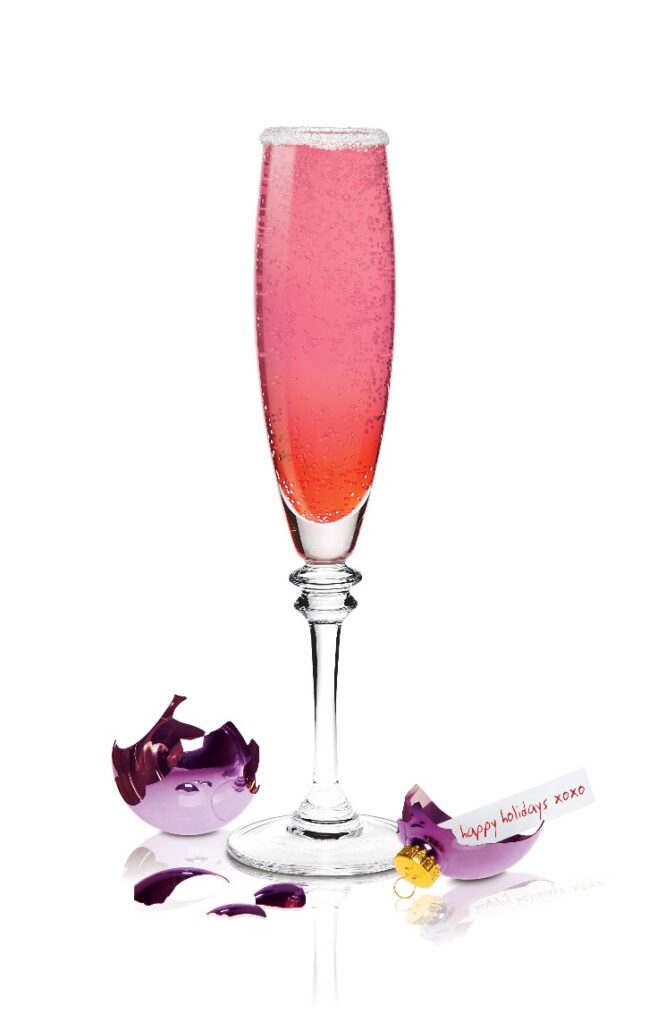 1 oz. X-Rated Fusion Liqueur
½ oz. orange liqueur
1-2 dashes orange bitters
4 oz. sparkling wine
1 teaspoon grenadine
garnish: sugar rim
Rim a champagne flute with sugar by rubbing it with a cut lemon, then dipping it into white, granulated sugar. Set aside. Pour X-Rated Fusion Liqueur, orange liqueur and bitters into a mixing glass. Shake with ice. Gently strain into sugar-rimmed champagne flute. Top with chilled sparkling wine. Gently drizzle grenadine into the glass, allowing it to settle at the bottom to create a layered effect.
Now if you are the type that is a bit shy and reserved (until you've had a drink or two) or can't decide whether you've been both good and bad? Then St. Nick's Naughty or Nice Punch is definitely for you. Either way, you will definitely enjoy this gift – no coals for you this time around. So why choose? Be bad while enjoying this very good drink.
St. Nick's Naughty or Nice Punch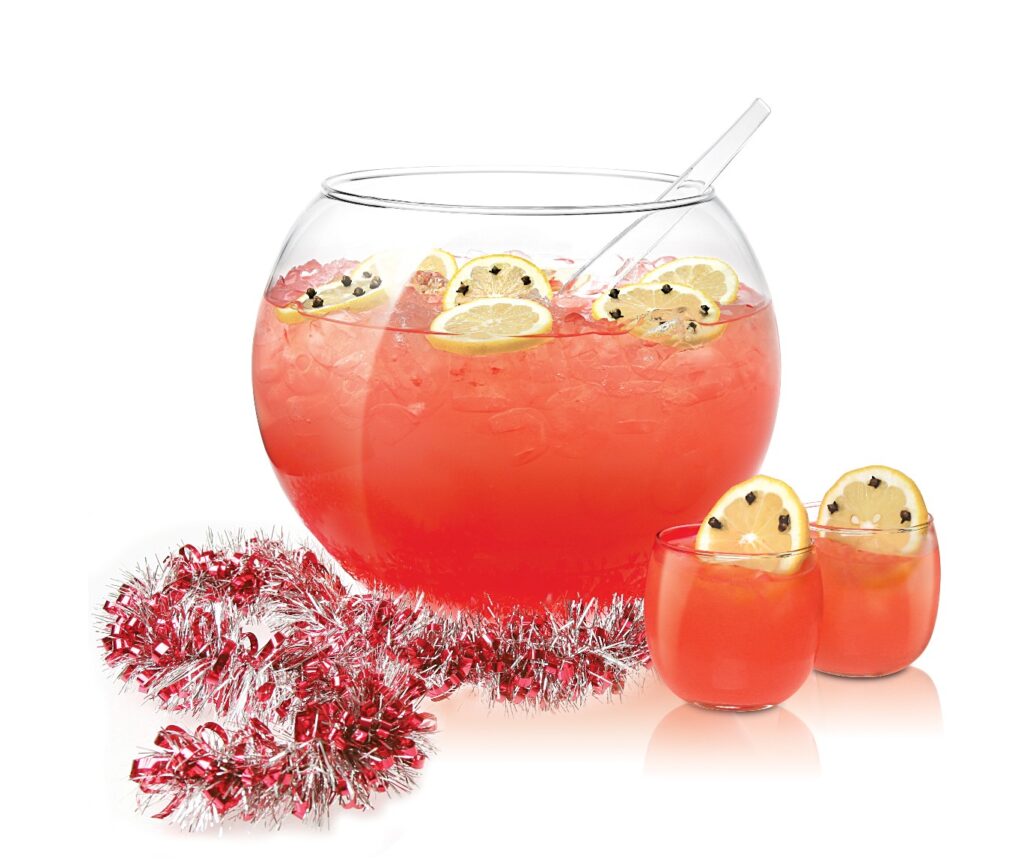 2 parts X-Rated Fusion Liqueur
1 part SKYY Infusions Pineapple
2 parts brewed peach herbal tea
½ part freshly squeezed lime juice
pinch of ground clove (approx 2 teaspoons for 1 punch bowl)
1 part club soda (use lemon-lime soda for sweeter punch)
garnish: whole cloves embedded into citrus wheels
Pour all ingredients into a punch bowl just before guests are due to arrive. Float clove encrusted citrus wheels on the surface of the punch for décor and aroma. Ladle into ice-filled wine glasses when serving.
Of course there's always the sweet and innocent part of ourselves – the angel, the adorable cherub, the part of you that wishes good will to all men (and women). What would that side of you like to drink – perhaps something equally sweet like guava or wholesome like milk. If you combine the two and add a little zest (like lemon) then you'd have the Sassy Little Elf.
Sassy Little Elf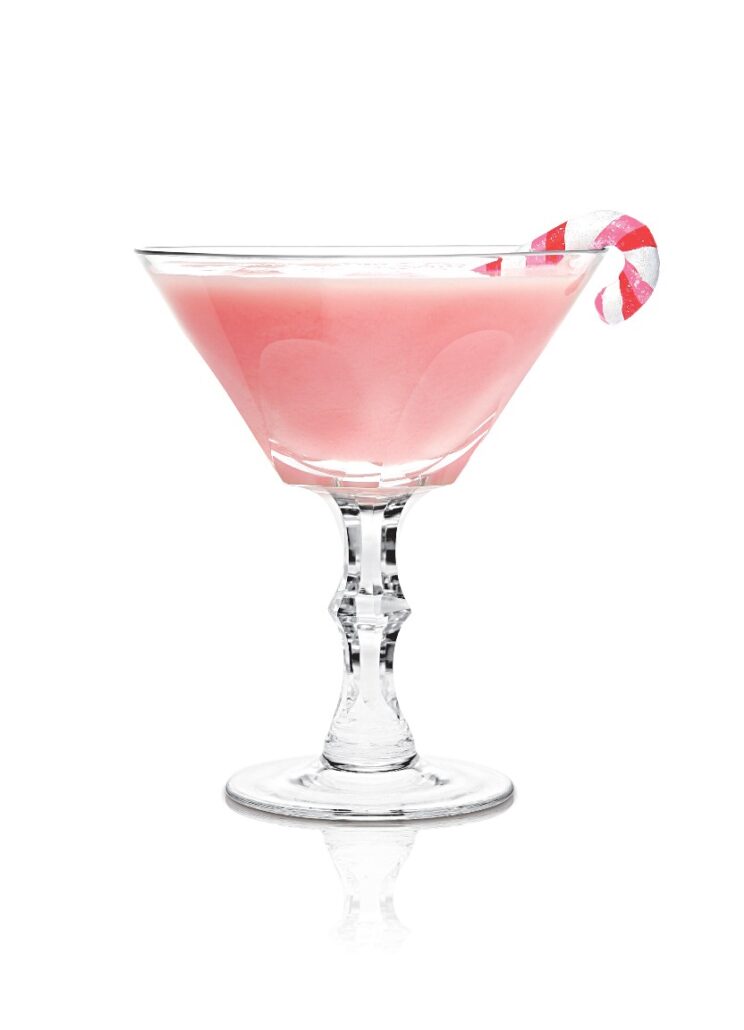 2 oz.X-Rated Fusion Liqueur
1 ½ oz. guava juice or nectar
1 oz. half-n-half
½ oz. freshly squeezed lemon juice
garnish:lemon zest (or mini candy cane)
Vigorously shake all ingredients with ice.
Strain into a chilled martini glass.
Serve with the garnish on the rim of the glass.
Say goodbye to Eggnog during this festive holiday season and say hello to X-Rated Liqueur's sinfully delicious holiday cocktails, your guests will thank you.