I try to eat healthy but it isn't always possible (either because I'm always on the run or just the fact the "healthier" foods cost more – why is that?). Anyway, I make up for what I lack with vitamins but I'm not what you'd call a fan of pills for many reasons. They taste awful and it's quite difficult for me to swallow pills. So when companies like Natural Dynamix Vitamins introduces a better (and fun) way to take my vitamins and get my much needed nutrients, I stock up.
Now as I said, I try to make up for my lack of healthy eating with vitamins, which very much includes fiber, so when I had the chance to try out Naural Dynamix's Adult Gummy Fiber DX, my answer was of course yes.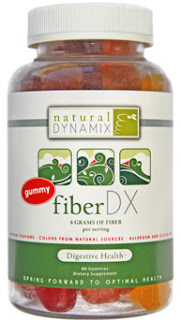 The funny thing is, it's not just the fact that it is a gummy vitamin that made me say yes. I eat a salad everyday for lunch and after really looking at what's in my salad, I realized there's not a lot of high fiber elements in there, which means I was not getting my daily requirement. Add the fact that I hate taking pills and don't even get me started on those god-awful powdered fiber products. Now as you may (or may not know), Fiber helps to normalize bowel movements, maintains bowel integrity, lowers blood cholesterol levels, controls blood sugar and aids in weight loss. Fiber also helps to lower your risk of diabetes, heart disease, cancer, diverticular disease, gallstones and kidney stones. After taking the required two per day, I saw an immediate response from my digestive system and I quite enjoyed the taste of the gummies as well. The only issue I had was trying not to eat more than the required two per day – they just taste so good. It's more like your sweet tooth and doing something healthy. Of course there are other ways you can help maintain better health in this department, which you can read about here: https://loveplugs.co/blogs/news/butt-plugs-health-safety-tips
Here's a little about Fiber DX: it is a Gluten and Preservative free vitamin that provides 4 grams of fi ber per serving in gummies that are easy to chew and swallow. It is made with natural flavors and colors, so there's no added sugar. Fiber DX contains Chicory Root Fiber, a plant root which helps maintain healthy balance of bacteria in the colon, prevents constipation and helps lower blood cholesterol levels. One bottle of Adult Gummy Fiber DX contains 80 vitamins and retails for $21.99.
So if you're not a fan of taking pills or those horrible tasting powdered fiber products, then Adult Gummy Fiber DX is for you. Save 5% off and get free shipping when you use promocode BG5.
And if you are in need of Calcium in your diet, then try Natural Dynamix's Adult Gummy Calcium DX. For more information, check out Natural Dynamix on Facebook.