My friend Michelle suffers from moderate (her body) to severe Eczema (her hands) and she continuously has to use medication that contain steroids. Although recently she was telling me about this cbd oil for eczema which sounds pretty promising and more natural than steriods. She hasn't a chance to use it yet though so I've seen her suffer through little itching fits, not being able to bend her fingers or hold onto something because of extreme dryness and of course there is the constant decoration of band-aids around her knuckles. So when Eau Thermale Avene introduced their Steroid-free line of TriXéra+ Sélectiose ® Products for Eczema, I had to see if it'd help relieve a little of her discomfort.

The TriXéra+ Sélectiose ® line of products include:
Emollient Cleansing Gel: $29.00 / 400 mL
Emollient Cleansing Bath: $24.00 / 200 mL
Emollient Cream: $29.00 / 200 mL $49.00 / 400 mL
Emollient Balm: $29.00 / 200 mL
TriXéra+ Sélectiose ® has been clinically proven to take treatment to the next level to relieve itchiness, skin irritation and redness ─ while working to actually lengthen the time between flare-ups.  
Sélectiose ®, a patented emollient that includes pentyl rhamnoside, is proven to help control the skin's primary inflammation response while significantly improving bioavailability.
Lipidic Trio (Essential fatty acids, Ceramides 3, Plant sterols) restores the skin's hydrolipidic barrier
Glycine relieves itching (pruritus)
Avène Thermal Spring Water soothes irritation and redness
Here is Michelle's experience in her own words:
I received three full size skincare products for testing (Emollient Cleansing Gel, Emollient Cleansing Bath and Emollient Cream). The products were daily skincare for extreme dry sensitive skin conditions, which in my case is Eczema. I used the products for almost 2 months and noticed immediate results. My skin was less irritated and I felt immediate moisture and relief, even on the first day.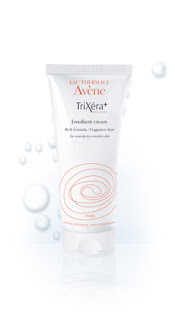 Although I could not use the Emollient Cream on hands because of the severe eczema on my fingers that required me to only use my prescribed medication, my body loved every bit of moisture I received from the Emollient Cream. I strongly recommend using it for those who are severely sensitive to many creams.
The Emollient Cleansing Gel contains Glycine which soothed and relieved my itching. My skin did not feel tight and dry as it  usually did after showering.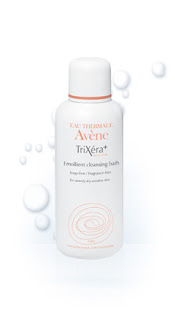 I loved the Emollient Cleansing Bath and it was actually the product that finished first. This cleansing bath did not feel greasy on my body, it left my body rather soothed and moisturized and it did not make the tub greasy either like most bath products for extreme dry skin do.
I was very happy with all the products I tried and I'd say if anyone with Eczema needs to sooth, moisturize, and heal their extreme dry sensitive skin, they should try Eau Thermale Avene's Soap-free, Fragrance and paraben-free, Hypoallergenic and Non-comedogenic TriXéra+ Sélectiose ® products, you and your body will love it.