My goodness, we had one heck of a blizzard, didn't we? While I was perfectly bundled up (thick sweater, coat, gloves, two scarves, earmuffs and snow boots), not everything was as effective as I needed it to be. When you're looking at the snow from the warmth and safety of your heated home and fluffy slippers – it's beautiful; but when you're outside in the midst of over two feet of snow, its a slightly different perspective. And, although it's great exercise, getting around in the stacked up white powder is not fun (well, except if you're under the age of 12).
While rain boots are great for rain and sneakers fantastic for comfort, neither are great for snow but guess what, regular snow boots are not either. As we all know, snow melts – so those mountains of white powder become disgusting slush – the bane of our winter existence. After trying to stay upright while maneuvering through the mess, you can't escape having soaked and freezing feet; at least that was me until I discovered Columbia Sportswear Women's Snowfall Thermo Boots.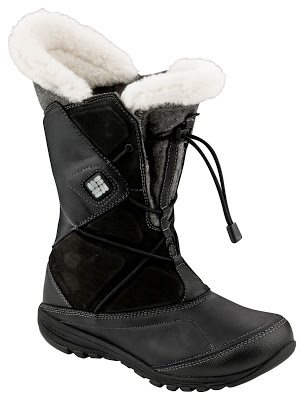 These very cute and innovative thermal boots have the world's first integrated electric heating system built right in for hours of warmth and comfort. Other boots (like my old ones) have you running for the fireplace, space heater, etc with each step near any snow covered surface. I love the embossed full-grain leather and suede upper with faux fur cuff; the Omni-Grip® rubber compound out-sole which provided great traction against black ice and slippery sidewalks and it's so lightweight. Columbia Sportswear is also equipped the Snowfall Thermo with Techlite, which is specially formulated to provide impact absorbing support, stability, and protection, so you can go the distance in comfort.
But the one thing they made me fall in love with the Women's Snowfall Thermo Boots is the fact that it's equipped with Omni-Heat®, a breakthrough thermal technology that helps maintain warmth and prevents heat loss, keeping you comfortable in cold weather. Omni-Heat® ensures you stay warm and comfortable in the most extreme cold conditions. The boots have a rechargeable battery that can be charged up for hours of warm and cozy feet at the push of a button. And my feet were definitely warm and cozy with these beauties – the only thing I'd note about these boots is to make sure you wear socks that are very thick around the ankle – the Snowfall Thermo Boot is very much like a ski boot, structured to keep your foot in place. Those not used to the stiffness will have to get used to your ankle's natural movements being restricted which will result in a bit of rubbing but thick socks create a nice cushion against that. Other than that, these are absolutely perfect for the unpredictable winter season and seeing as February is usually a high snowfall month, the Columbia Sportswear Snowfall Thermo Boots are a must.