In celebration of all of us beautiful, confident women, Diet Pepsi presents the taller, sassier new Skinny Can at New York's Fall 2011 Mercedes-Benz Fashion Week.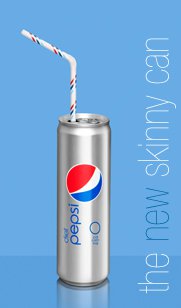 The new Diet Pepsi Skinny Can, available to consumers nationwide in March, will launch with a series of fashion events and celebrations, including an art installation by fashion commentator, Simon Doonan, and collaborations with acclaimed designers, Charlotte Ronson and Betsey Johnson.
"Diet Pepsi has a long history of celebrating women through iconic fashion imagery seen in our infamous and historical campaigns, and we're proud to continue that tradition as an official sponsor of Mercedes-Benz Fashion Week," said Jill Beraud, Chief Marketing Officer, PepsiCo. "Our slim, attractive new can is the perfect complement to today's most stylish looks, and we're excited to throw its coming-out party during the biggest celebration of innovative design in the world."

As part of the festivities, fashion commentator, Simon Doonan, famous for his store window displays, will unveil a special collaboration at the Diet Pepsi Style Studio located at 362 West Broadway in New York's fashionable Soho neighborhood on Feb. 11th. Featuring Diet Pepsi's slim, attractive new cans and incorporating Jonathan Adler designs, the window installation is a unique fusion of fashion and art. Following the New York Collections, the window display will be viewable to the public for the month of February.
"I'm thrilled to be working with Diet Pepsi in creating a truly one-of a kind window installation – one of my boldest creations yet – that fashion insiders, tastemakers and the public at large can all enjoy," said Simon Doonan. "Along with the element of surprise, one of the best things about fashion week is the chic-sexy confidence exuded by attendees and models alike, and I've incorporated both into the display."
Get the Skinny at Mercedes-Benz Fashion Week with Diet Pepsi
Diet Pepsi will also be front and center at Lincoln Center, teaming up with Charlotte Ronson, Betsey Johnson, Maybelline and offering onsite refreshment. Stylesetters attending Mercedes-Benz Fashion Week can stop by
the Diet Pepsi booth to 'Get the Skinny' on the latest trends and collections, including:
To celebrate Diet Pepsi's official sponsorship of Johnson's show, Betsey will give a sneak peek to an exclusive item and giveaway at the booth at 10:00 AM, Saturday Feb. 12
Charlotte Ronson has designed an exclusive T-shirt inspired by Diet Pepsi that will be given to attendees at her show and after party (to be held in the Diet Pepsi Style Studio in Soho). The shirt will be on display at the booth starting, Sunday Feb. 13
In partnership with Maybelline, fashionistas at the Vivienne Tam and Max Azria shows will receive SuperStay 24 Lip Color, guaranteed to never leave an unfashionable lip mark on your Diet Pepsi
A special recreation of Simon Doonan's Diet Pepsi Style Studio installation will be front and center as guests enter and exit the runway venues at Lincoln Center
A live streaming Twitter board giving the up-to-the minute skinny on what's going on at the tents
Exclusive giveaways and sampling opportunities for passersby to indulge in and refresh with
Consumers can 'Get the Skinny' on the new can, as well as the hottest Mercedes-Benz Fashion Week news and trends by visiting the Diet Pepsi Facebook Page for more information, www.facebook.com/dietpepsi.
In addition, to celebrate beautiful, confident women and offer refreshment across the country, Diet Pepsi Skinny Can is collaborating with the 10 fashion boutiques in New York, Los Angeles, San Francisco and Miami, providing them with a custom "Skinny Can Fridge." Thirsty fashionistas will get a complimentary Diet Pepsi Skinny Can while they shop in stores including Jeffrey, Intermix, Fred Segal, and Dash.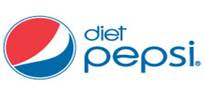 About Diet Pepsi
With its light, crisp taste, Diet Pepsi gives you all the refreshment you need – with zero sugar, zero calories and zero carbs. The attractive new can will be available to consumers in stores nationwide in March in addition to existing packaging.
For more information, check out the www.facebook.com/dietpepsi or on Twitter @dietpepsi, #skinnycan.
About PepsiCo
PepsiCo offers the world's largest portfolio of billion-dollar food and beverage brands, including 19 different product lines that each generates more than $1 billion in annual retail sales. Our main businesses – Frito-Lay, Quaker, Pepsi-Cola, Tropicana and Gatorade – also make hundreds of other nourishing, tasty foods and drinks that bring joy to our consumers in more than 200 countries. With annualized revenues of nearly $60 billion, PepsiCo's people are united by our unique commitment to sustainable growth, called Performance with Purpose. By dedicating ourselves to offering a broad array of choices for healthy, convenient and fun nourishment, reducing our environmental impact, and fostering a diverse and inclusive workplace culture, PepsiCo balances strong financial returns with giving back to our communities worldwide. For more information, please visit www.pepsico.com.