Kama Sutra
has introduced us to some amazing products to help us with intimate moments and as the weather is slowly (very slowly) getting warmer, it's getting to that time where we expose more skin – some publicly and some privately.
Kama Sutra
is here to help with getting warm weather ready with the introduction of their newest sensation,
Intimate Caress Shave Cremes
.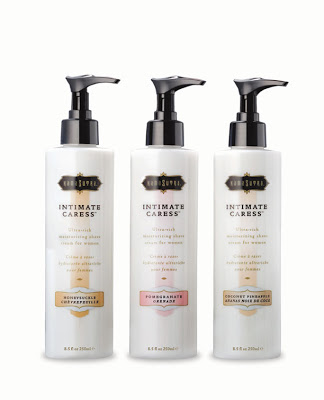 Available in three seductive scents, each shave crème, which retails for $12.99, combines the hydrating powers of Jojoba Oil with the moisturizing and healing powers of Aloe Vera; available in delectable fragrances such as Coconut Pineapple (rich' luscious coconut scent with the essence of sweet pineapple), Honeysuckle ( the floral essence of delicate honeysuckle petals) and Pomegranate (the refreshing scent of sweet, fragrant pomegranates), the skin is left feeling renewed and radiant, smooth like silk, super soft, inviting and kissable. Designed to be used anywhere on the body, Intimate Caress Shave Cremes leave the skin ready to be kissed from head to toe.