This is the first time I can say my sacrifice for Lent has been an smooth ride. Unlike past years where I've given up tea (harder than I thought it'd be), alcohol (a tad hard but not too much), sweets/deserts (the worst – I felt like a druggie going through withdrawal; I had headaches, the shakes, etc) but this year, I gave up meat (not just on Fridays but for the full 40 days and 40 nights) and it's been so easy. I feel like I'm not really suffering for my sins. I mean, I love a good steak, lamb chops, brisket of beef, etc but I've been having a great time thanks to companies like SeaPak Shrimp Co. who offers amazing meatless meal alternatives.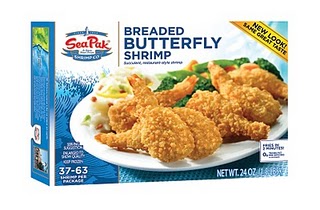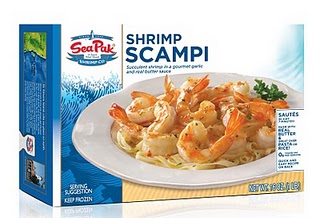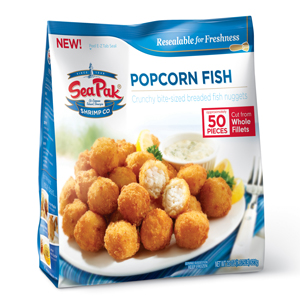 Beginning on Good Friday, I've been enjoying Jumbo Butterfly Shrimp and scrumptious Shrimp Scampi, savory Salmon Burgers, Popcorn Fish, Crab Legs and Fresh Fish. While Catholics have been enjoying their seafood every Friday, I've been having a blast Sunday through Saturday and will continue to do so until Easter. Although the way things are going, I might be incorporating this into my normal eating routine. Did you know Shrimp is one of the most popular seafood items throughout the year, particularly during the Lenten season?
Its amazing the various ways you can enjoy shrimp. A few friends have asked me if I'm afraid I'll get bored – how can I? There are so many delicious recipes to enjoy such as the ones below

Gorgonzola Shrimp Bites
Prep Time: 2 minutes
Cook Time: 15 minutes
Makes: 16 appetizer servings
Ingredients
1 (9 oz) package SeaPak® Jumbo Butterfly Shrimp – Oven Crispy or 1 package (8 oz) SeaPak® Butterfly Shrimp – Oven Crispy, frozen
Apricot preserves (I'm allergic to Apricots, so I used orange)
Gorgonzola crumbles
Directions
PREHEAT oven to 425 degrees. Bake Butterfly Shrimp according to package instructions. Remove from oven. Turn oven up to broil.
SPOON apricot preserves (about 1/2 teaspoon) onto each shrimp. Top with Gorgonzola crumbles (about 1/2 teaspoon).
PLACE shrimp under broiler for 1-2 minutes (watching closely).
SERVE immediately.

Here's a recipe tip from a SeaPak Shrimp Co. fan – If you can't find Gorgonzola, use blue cheese or goat cheese!

Italian Shrimp Salad
Prep Time: 5 minutes
Cook Time: 10 minutes
Makes: 4 servings
Ingredients
1 (12 oz) package SeaPak® Shrimp Scampi, frozen
1 can (14 oz) diced tomatoes, drained
2 Tablespoons red onion, diced
2 Tablespoons fresh basil, chopped
2 Tablespoons balsamic vinegar
4 slices Italian bread, cut on a diagonal and lightly toasted
Salt and ground black pepper
Directions
PREPARE shrimp according to package directions.
LIFT shrimp from butter sauce (discard butter sauce if desired) and transfer shrimp to a large bowl. Add tomatoes, onion, basil, and vinegar. Stir to combine and season to taste with salt and pepper.
ARRANGE bread slices on a serving platter or individual plates and spoon shrimp mixture over top
Here's a recipe tip from another SeaPak Shrimp Co. fan – This also tastes great served over garlic Melba toast
Adding more seafood to your diet is very beneficial to your health. The new USDA dietary guidelines are recommending eating at least 8 ounces of seafood a week. Studies have shown that seafood, particularly the nutrients found in fish and shellfish, aid the body's healing after cancer treatments and help prevent auto-immune conditions, asthma, allergies, migraines, skin conditions, and Crohn's disease.
So whether you're just eating seafood on Fridays for Lent, trying out a new meat-free lifestyle or trying to include more seafood into your diet, try a few products and recipes from SeaPak Shrimp – you won't be disappointed.I'm having a great time this Lenten season.