Two months ago, I challenged you lovelies to take the
John Frieda® Precision Foam Colour
At-Home Haircolor Challenge and although it was hard to do, I had to choose five of you to experience this amazing product. You can reacquaint yourself with the feature
HERE
. John Frieda® Precision Foam Colour is a revolutionary, non-drip foam covers every strand perfectly for long lasting tonal color richness.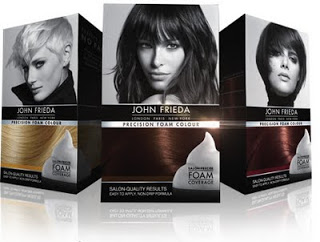 Two of the lovely ladies, Laura Battaglia and Stephanie Albro shared their results with me and I'm hear to share their John Frieda hair color stories with you.

First, meet Laura and read her story: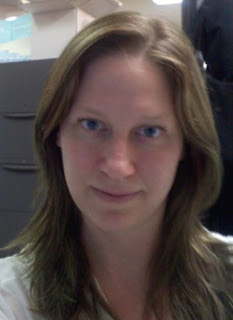 BEFORE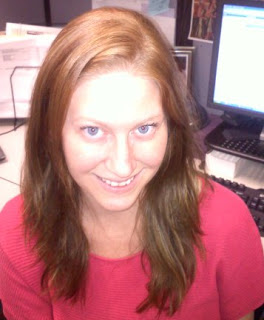 AFTER
Originally, I just wanted to slowly transition back to my natural hair color of light blonde, so I decided to try the Medium Natural Blonde color (Laura tried the John Frieda® Precision Foam Hair color in Sheer Blonde). I didn't realize how dark my hair really was when I started to die it, so as you can see from the results, it ended up lightening up my hair just a little bit. If you want your hair to be the blonde color pictured on the box, I recommend, you go almost 2 shades lighter than your current hair color… especially if you are a natural blonde that has colored treated hair much darker than your natural color. Also, as all "box" hair dies usually say to start at your roots, I recommend, starting at the ends for a more even color result. I found since I had alot of new hair growth at my roots from the last time I died it, the color really took to my roots the quickest.
Overall, I really liked the product!! I am considering on getting the next lighter shade in about 6 weeks to lighten it up a bit more too. And I was definitely happy with how well the color still preserved my hair quality without damaging it, like a lot of "box" dies do. And the conditioner cream they give you is amazing; I would use as a weekly treatment if they sold separately. Thanks again for the chance to try this great product out!!!
And here is Stephanie and her story: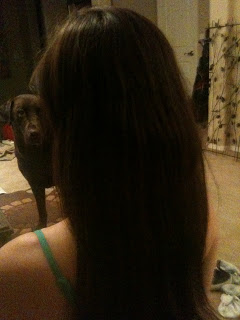 BEFORE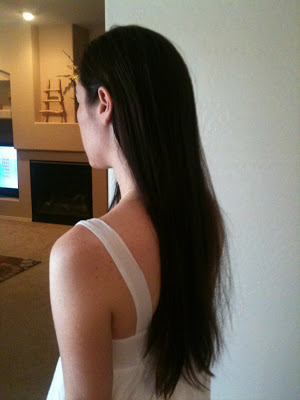 AFTER
I loved the John Frieda Precision Foam Hair Colour! My color after using this product was glossy and saturated and the color seemed to last much longer than my usual dye (Stephanie's haircolor choice was John Frieda® Precision Foam Hair color in Brilliant Brunette – a medium golden brown). Overall an Excellent product, I will use it again!
Thank you ladies for sharing your stories and enjoy your hair colors.