Buckle up Ladies and Gentlemen because its going to be an extremely bumpy ride – and while you're at it, don't indulge in this movie on a full stomach. If you like gory movies, then Final Destination 5 is your go to movie this year (and I'm sure for a few years after), if you love 3D movies, then Final Destination 5 is again your go to movie (NOTE to all 3D movie makers – take notes).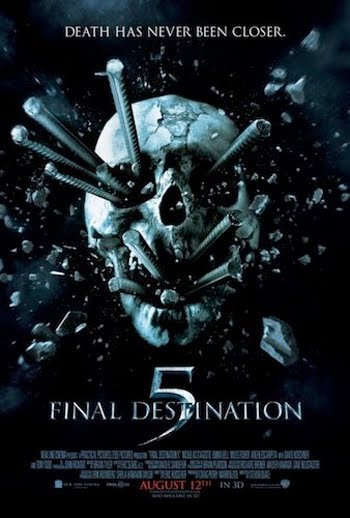 Final Destination 5 is the best 3D movie I've seen, I mean even the opening credits are in 3D – REAL 3D. It's epic! To get the best experience, I advise to sit not in the back as most people would but a bit closer to the screen, you'll feel like you're running from death yourself. If you're a lover of gore, you'll think Steven Quale has outdone himself. Mr Quale gives you a full, no hold barred view and all the gory details of each death. You will cringe, you will turn away from the screen and you might even have to excuse yourself from the theater (I saw quite a few people run out of the theater, more than I've seen in the past six movies I've attended combined). I had to admit, I couldn't eat a thing for quite some time after the screening.
This latest edition (last?) again stars several young relatively unknown actors like Nichola D'Agosta, Emma Bell and Miles Fisher though you may recognize them from a show here and there. More recognizable faces include "the Voice" Tony Todd (who was been in just about all of the Final Destination movies except for The Final Destination which was part 4), Courtney B Vance which most will recognize as ADA Carver from Law & Order:Criminal Intent and David Koechner from Anchorman and The Office. While there were oh so many creative deaths and incidents in the movie, my favorite part has to be the ending. I'll just say it brings it all together and leave it at that – I don't want to ruin this movie experience for anyone.
Enjoy (ha, ha, ha, ha) – in my best Tony Todd voice