Make way for the future of fashion as teen design stars from the High School of Fashion Industries unveil their winning designs as they compete to win scholarship grants and gain retail exposure in the Mandee/Vanilla Star Fall Design Challenge.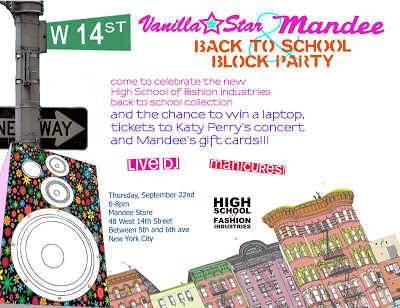 Trendy junior retailer Mandee and junior denim brand Vanilla Star Jeans join forces to sponsor a unique design challenge for students at the legendary fashion high school (and my almost Alma Mata) at a Block Party held at the Mandee store between 5th and 6th Ave. Student teams were asked to design original 'Back-to-School' capsule collections consisting of two complete looks relevant to Mandee's cutting-edge customer and to Vanilla Star's "Smart Girls Rock!" vision. The five-piece collection will be sold exclusively at Mandee stores, and 10% of the proceeds will be donated by Mandee to HSFI to support student programs.

Guests can participate in several contests for a chance to win Katy Perry concert tickets, a laptop, and Mandee gift cards. The BTS Block Party will also feature a DJ, manicures, food from Kimchi Taco Truck and dessert from the Big Gay Ice Cream Truck.
Winning design teams (now seniors at HSFI):
1st Place – Stephanie Pimentel and Keanna Wilkins
2nd Place – Gisselle Cedeño and Sabla Stays
3rd Place – Kimberly Persaud and Janicia Francis
High School of Fashion Industries principal Daryl Blank reports, "We are grateful to Mandee and to Vanilla Star for giving our students such valuable 'real world' experience in the fashion industry. The design challenge provided hands-on experience in design development, working against deadlines, facing competition, an using the presentation and marketing skills that are necessary tools in the fashion business."
Says Alan Mandelbaum, "Everyone at Mandee is thrilled to be able to introduce the designs of such gifted students into our stores. These future fashion stars know first-hand what our customers want."
Mark Levy reports, "We started this partnership with The High School of Fashion Industries because we believe that teens with brains, personality, talent, and ambition can do anything they set their mind to. Vanilla Star does more than just encourage teens to 'live their dreams,' we help them turn them into a reality."
About Mandee
Mandee is a junior apparel retailer targeted to young women 17-23 who crave cutting edge fashion and style at a value price. Mandee carries trendy sportswear, dresses, shoes, intimates, accessories, and jewelry at its 116 stores and via www.mandee.com.
About Vanilla Star Jeans
Vanilla Star Jeans is an international company founded in 2002 and based in New York City. Today, Vanilla Star Jeans is the jean fashion leader for junior and girls fashion in the U.S., sold at all major department and specialty stores throughout the nation. For more information, visit www.vanillastarjeans.com.