Hello again Comic Con fans, for those of you dying to get autographs from your fav shows as Robot Chicken, Venture Bros and Black Dynamite, below is a list of autograph signing sessions for your at the upcoming New York Comic Con
Friday, October 14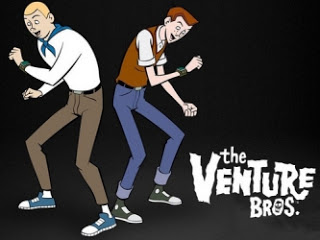 1:00 p.m. – 2:00 p.m.
Venture Bros Signing
Location: Room 1E07
Talent: Jackson Publick, Doc Hammer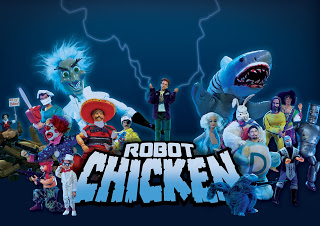 2:30 p.m. – 3:30 p.m.
Robot Chicken Signing
Location: Room 1E07
Talent: Seth Green (co-creator), Matt Senreich (co-creator),
Zeb Wells (writer) and Doug Goldstein (head writer and co-producer)
2:00 p.m. – 3:00 p.m.
Black Dynamite Signing
Location: Room 1E07
Talent: Michael Jai White, Byron Minns, Kym Whitley,
Carl Jones (executive producer), and Scott Sanders (producer)
CARTOON NETWORK – LOUNGE INFORMATION
Cartoon Network and Adventure Time will take over the registration lobby of the Jacob Javits Center at New York Comic Con from October 13 – 16, with the CARTOON NETWORK LOUNGE. A fully-immersive experience, the CARTOON NETWORK LOUNGE will be a must-see destination for fans of the network, as they can catch up on their favorite Adventure Time episodes, grab some exclusive giveaways, play their favorite video games and so much more. In addition to other giveaways, Adventure Time fans should stop by to get their free New York Comic Con exclusive 2″ Finn figure, while supplies last. The toy is a limited-edition update to one of the figures from Jazwares toy line, which is currently available for sale at Toys"R"Us retailers nationwide. Additionally, at the CARTOON NETWORK LOUNGE, fans can try their hand at three all-new video games that will be released this fall: Ben 10 Galactic Racing, Cartoon Network Punch Time Explosion XL and Generator Rex: Agent of Providence.
Cartoon Network (CartoonNetwork.com), currently seen in more than 99 million U.S. homes and 207 countries around the world, is Turner Broadcasting System, Inc.'s ad-supported cable service now available in HD offering the best in original, acquired and classic entertainment for youth and families. Nightly from 9 p.m. to 6 a.m. (ET, PT), Cartoon Network shares its channel space with Adult Swim, a late-night destination showcasing original and acquired animated and live-action programming for young adults 18-34. Anyone who wants to access to these channels can upgrade their cable package through a company like Infinity Dish, source here, so that they can watch all the latest episodes.
Turner Broadcasting System, Inc., a Time Warner company, creates and programs branded news; entertainment; animation and young adult; and sports media environments on television and other platforms for consumers around the world.