Beauty is more just what is on the outside, that is why
Beauty Bar
is helping you be beautiful both inside and out by partnering with the
FEED Foundation
to help eradicate world hunger. Bring happiness to the less fortunate while giving you a beautiful inner glow. How can you help?
For every new customer referred to shop on the innovative beauty boutique, Beauty Bar will donate $5 to the FEED Foundation
. If you have not already registered at BeautyBar.com, complete the quick online registration form to receive a unique Referral Code. Check your "My Account" page for your Referral Code and send to your friends. When your friends use your code to make their first purchase on Beauty Bar, FEED will benefit.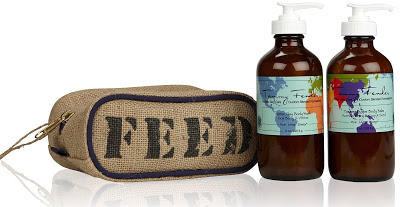 Another way to help is by purchasing the above Tammy Fender Limited Edition Project FEED Set, which contains a limited-edition FEED P4P Travel Bag, an 8 oz Tammy Fender Clay Body Wash and Tucuma Butter Body Balm. Purchasing this set helps support producers in struggling nations, such as Haiti and Brazil, who benefit directly from the purchase of the food-grade ingredients used in both products.
About FEED Foundation


Co-founded by model-turned-philanthropist Lauren Bush, the FEED Foundation is dedicated to ending world hunger, one child at a time. As of 2011, the FEED Foundation, in partnership with FEED Projects, has supplied 60 million nutritious school meals to children around the world. Through the sale of environmentally-friendly goods which have a set donation built into their cost, including stylish FEED bags, jewelry, bears and t-shirts, the FEED Foundation is able to fulfill its mission of helping to feed the world.