Do you live in NYC and need help thinking about what to do to romance the love of your life on Valentine's Day or beforehand? No Need to worry because
GOODNESS
has an amazing food experience for you to wow your love.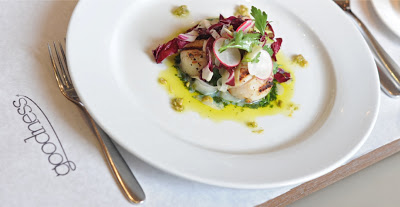 GOODNESS, a four-day pop-up restaurant, will be featuring a different collection of prominent NYC-based chefs. Held at the ROBERT (located on the top of the Museum of Art and Design) this year, "GOODNESS" will provide fresh, healthy and delicious food for four days during Fashion Week from Feb. 11-14. This years Chef line-up includes: Mario Batali, Leo Forneas, Alain Allegretti and Julian Medina. Whether you plan on enjoying a delicious and different lunch experience or want to surprise your Valentine with an amazing mid-day meal, the GOODNESS Pop-up is a culinary hit. On Valentine's Day, proceeds from sales of a special Vanilla Custard Flan with Berry Pico de Gallo dessert by Chef Medina will benefit New York's City Harvest, New York City's only food rescue organization, dedicated to feeding hungry men, women, and children.

ROBERT at Museum of Arts and Design – http://robertnyc.com
2 Columbus Circle, 9th floor
(located on the top of the Museum of Art and Design)
Dates: Saturday, Feb 11th – Tuesday Feb 14th
Serving lunch: 11:00 am – 3:00 pm
Featured chefs:
Mario Batali of Babbo – Saturday, Feb 11th
Leo Forneas of ROBERT – Sunday, Feb 12th
Alain Allegretti of La Promenade des Anglais – Monday, Feb 13th
Julian Medina of Toloache – Tuesday, Feb 14th
Menu: Prix fixe menu: ($35) includes 1 appetizer, 1 soup, 2 entrees and 1 dessert
For more information and menus, visit goodnesspopup.com. GOODNESS is open to the public and reservations are now being accepted.
ABOUT GOODNESS
A series of global pop-up restaurants, GOODNESS was founded in September 2011 by model/environmentalist Elettra Wiedemann. Originally created to provide the fashion community with easy access to affordable, locally sourced food, GOODNESS is housed in a new venue with a fresh menu at luxury events around the world. Sponsored by partners such as The Daily Front Row, Lancôme, CIRCA and Renaissance Hotels, GOODNESS also highlights the cuisine of guest chefs with decadent, delicious specials. In 2012, GOODNESS earned the CFDA's Health Initiative Stamp of Approval. GOODNESS will make future appearances in Paris, London, Doha and Miami. For more information, please visit goodnesspopup.com.