So as you may (or may not) know, it is Lent, a time when some sacrifice something we love for 40 days and 40 nights. My sacrifice this time around is soda. Yes, for over a month, not a drop of soda will pass my lips. At first I thought it would be difficult to go without the mix of carbonated water, high fructose, caffeine, citric acid, etc but thanks to
Spindrift Soda
, I can (and am) enjoying soda without actually having "soda". Confused? Don't be. Spindrift is a fresh take on soda – made with sparkling water and crushed fruit; a new all-natural, fresh squeezed soda.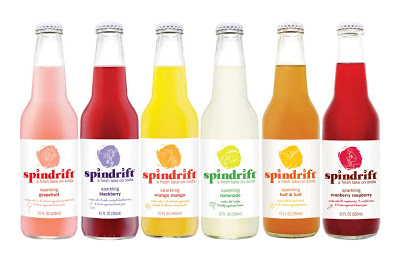 Made entirely from fresh squeezed fruit (pulp and all) with carbonated triple filtered water and cane sugar, and delivered alongside fresh produce, this "anti-soda" contains NO syrups, NO juice concentrates, NO additives, NO preservatives, NO artificial sweeteners or colors. How does it taste? Absolutely amazing, so refreshing, so light, extremely delicious. You will love each and every one of the six available flavors. Spindrift Sodas are made every 4-6 weeks in tiny batches, then stored and distributed COLD.
Flavors include:

Sparkling Blackberry – 8 whole blackberries & fresh squeezed lemon juice
Orange Mango – 1/2 of a fresh squeezed orange and alfonso mango puree
Lemonade – 1 whole fresh lemon
Grapefruit – 1/4 of a fresh squeezed grapefruit & fresh squeezed lemon juice
Half & Half – fresh brewed tea & 1/4 of fresh squeezed lemon
Cranberry Raspberry – 16 raspberries, 9 Vermont grown cranberries & fresh squeezed lemon juice
You will not be disappointed with the taste of Spindrift Soda, each flavor will be your favorite until you taste the next one (I must admit, the last one I had was the Orange Mango and all I can say is wow) and because of its fresh ingredients, this is a healthy and delicious way to enjoy soda. Spindrift is available nationwide online, as well as in specialty stores across the country and retails for $2.49 a bottle.
Another cool thing about Spindrift is web addresses of their wonderful Not For Profit partners who are working to preserve water resources, both locally and globally, are printed on the inside of their bottle caps – 330,000 caps to be exact, so don't be surprised if you see climatecounts.org, savebuzzardbay.org or water.org on your bottle cap.