Ask anyone what their favorite Pepperidge Farm cookies are and 80% of the time, the answer is their iconic Milano Cookies. The classic sandwich cookie has been a favorite since it first debut about 60 years ago and has gotten a bit of the taste twist with the additions of flavors like Mint, Orange and Raspberry. Today, they're launching six new varieties of the Milano Cookie that join the delicious originals. Introducing
Milano Slices
and
Milano Melts
: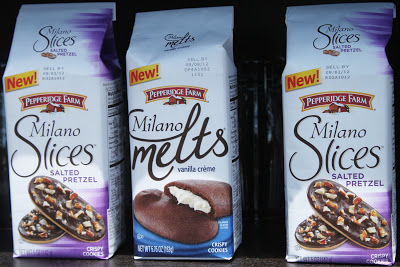 Milano Slices – these open-faced cookies offer a variety of toppings that rest on top of a layer of decadent chocolate on the thin cookie. Available in yummy extras like Crunchy Almond, Sweet Toffee and Salted Pretzel (with a Peppermint flavor launching later this year), you may find yourself reaching for these instead of the original.
Milano Melts – Pepperidge Farm has taken their classic favorite and pumped it up a bit. Keeping the crispy cookie shell but packing each with mouthwatering creme fillings, the dual texture of the new Vanilla Creme, Mint Chocolate Creme or Original Dark Classic Creme cookies are absolutely delicious and I think I now have a new favorite in the Vanilla Creme Milano Melts.

To celebrate the launch, Pepperidge Farm had Pastry Chef Gale Gand, author of Chocolate & Vanilla, on hand to educate us on the different tastes and textures of the cookies and Meredith Keiling, Senior Product Development Technologist, helped guests custom make their Milano Slices

Pastry Chef Gale Gand at Pepperidge Farm – Glasgow Skinner from Glasgow Skinner on Vimeo.
With ingredients such as white and dark chocolate, walnuts, pistachios, coconut, dried banana, candied ginger, lavender, sea salt, peppermint, etc, we let our imaginations run wild.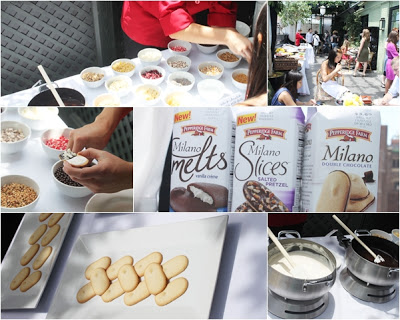 For my creation, I chose dark chocolate, walnuts and candied ginger. It was a delicious result.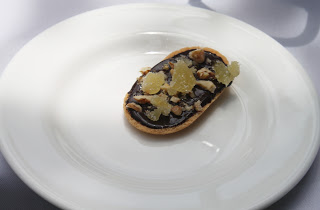 The new and classic varieties of Pepperidge Farm Milano Cookies retail for $3.69 and are available in all major supermarkets, grocery stores and mass merchandisers nationwide.