Thanks to Samsung Mobile US and the incredible Galaxy S III, superfans of Lupe Fiasco were treated to a once in a lifetime event, the opportunity to help him celebrate his new album,
Food & Liquor 2: The Great American Rap Album Part 1
and be honored by the man himself as he used the revolutionary Samsung Galaxy S III to tweet, take photos and share photos with award winners during the event. Lupe Fiasco's biggest fans who have supported him throughout his career were given awards and a prize pack that included gifts from from Samsung Mobile US. Some awards included
Hufanitanian of the year, Best Fan Video
, etc
Check out video of Lupe Fiasco giving an award to one of his recipients below

Lupe Fiasco Awards SuperFans at the Launch of "Food and Liquor 2" – mylifeonandofftheguestlist.com from Glasgow Skinner on Vimeo.
Fans also enjoyed a live performance by DJ Dexter Love and Lupe Fiasco hitting the stage with 8-piece band, Verzatile, had their photos taken at the Burst Shot photo booth providing them with an instant photo to take home, and the chance to listen and view exclusive content from Lupe Fiasco's latest album using all share on the Galaxy S III.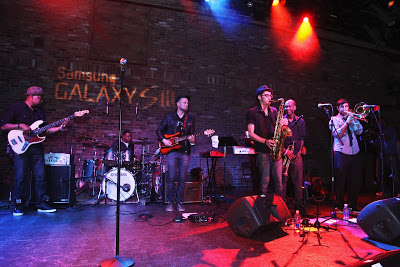 Verzatile photo by Andrew Walker and Don Bowers for Getty Images
Celebrities in attendance included recording artist Pharrell Williams, TV personality Lala Vasquez, actor Chi McBride, MTV host Melanie Inglesias, etc

Andrew Walker and Don Bowers for Getty Images